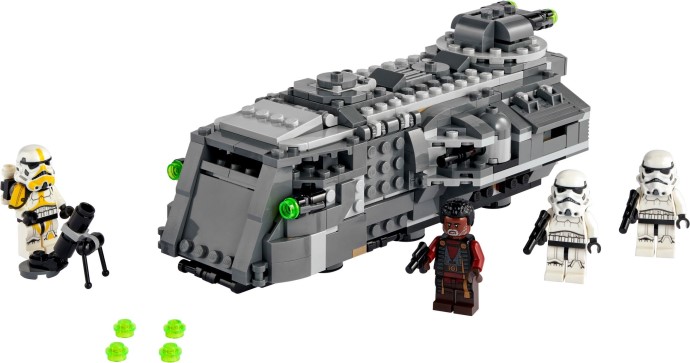 Imperial Armored Marauder: A Must-Have Set for Star Wars Fans
Star Wars enthusiasts, especially those who love The Mandalorian, have a thrilling new addition to their LEGO collection: the Imperial Armored Marauder (75311) set. Launched in 2021, this buildable model is perfect for reenacting exciting action scenes from Season 2 of The Mandalorian or creating brand-new adventures. Jam-packed with authentic features like stud shooters and a rotating turret, this set is sure to get your imagination running wild.
A Stellar Model with Impressive Features
The Imperial Armored Marauder boasts impressive authenticity to inspire playtime activities. For instance, it comes with 478 pieces that can be assembled into a fantastic model measuring 35.4 x 19.1 x 7 cm (13.9 x 7.5 x 2.8 in). Additionally, the set includes two front stud shooters, a rotating rear turret that houses another two stud shooters, easy-access compartments for ammunitions, and LEGO minifigure cockpit and cabin. In addition, the Marauder also features a lookout point and an access hatch to make playtime more adventurous.
Action-Packed Drama with Iconic Characters
This set features four LEGO minifigures from the Star Wars: The Mandalorian series: Greef Karga wielding a blaster pistol, two Stormtroopers with blasters in hand, and an all-new Artillery Stormtrooper equipped with a mortar gun and backpack accessory (available since August 2021). These iconic characters provide children with hours of play and endless opportunities to recreate memorable battles or play out their own creative stories.
Fun for Experienced Builders and Newbies Alike
No need to fret if you're a beginner LEGO builder – the Imperial Armored Marauder (75311) set includes easy-to-follow, step-by-step instructions to guide you through the entire building process. It's an excellent option for those new to LEGO or Star Wars fans looking to add a striking new piece to their collection. With a recommended age range of 8 and above, this buildable model is perfect for sharing the joy of creative building with younger Star Wars fans as well.
A Gift that Delights LEGO Star Wars Enthusiasts
Available at a reasonable retail price of £34.99 / $39.99 / 39.99€, the Imperial Armored Marauder makes an ideal present for birthdays, holidays, or special occasions. Its engaging features, coupled with the fascinating characters from The Mandalorian series, guarantee any recipient will be thrilled by its versatility and creativity.
Join the Legacy of LEGO Star Wars Sets
With the success of numerous LEGO Star Wars sets since 1999, fans can continue to enjoy reimagining iconic scenes, creating innovative stories, or collecting the various models from this highly popular theme. Join in on the exciting experience and bring home the Imperial Armored Marauder (75311) set – a truly awesome addition for every LEGO-loving Star Wars enthusiast.