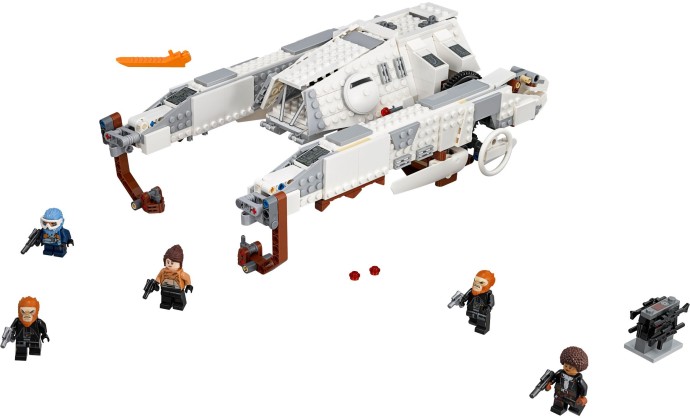 Explore the Galactic Empire with LEGO's Imperial AT-Hauler
Unleash your inner Star Wars fan with the LEGO 75219 Imperial AT-Hauler set. Based on the iconic vehicle from Solo: A Star Wars Story, this immersive and action-packed building experience will transport you to a galaxy far, far away. Rich in detail and designed for ages 9-14, the set brings together LEGO's unmatched craftsmanship and the beloved Star Wars franchise to deliver endless excitement for builders and collectors alike.
Recreate Epic Battle Scenes
The Imperial AT-Hauler set is part of LEGO's Star Wars Solo subtheme, capturing the thrilling atmosphere of one of the epic space saga's most recent installments. With 829 pieces, this model provides an engaging build while incorporating authentic details that will excite any Star Wars aficionado.
Join forces with Qi'ra, Val, Rio Durant, and two of Dryden's guards – brought to life by the set's five included minifigures – as you recreate daring heists and hair-raising battles. For added excitement, combine this set with LEGO 75215 Cloud-Rider Swoop Bikes or 75217 Imperial Conveyex Transport for an unforgettable high-speed train heist.
Features Fit for the Galactic Empire
No expense was spared in designing a model worthy of its Star Wars heritage. Stand-out features of the Imperial AT-Hauler include rotating pylons with movable lifting hooks, an opening minifigure cockpit, platform underneath for minifigure transport, side-mounted stud shooters, and a buildable, opening cargo container that holds 4 blaster rifles.
To shift between flight and landing modes, simply rotate the lifter arms. And when it is time to lift some cargo, load up the buildable container and use the hauler's hooks to transport it across space – or your living room.
Bring Home Your Piece of the Star Wars Universe
Released in 2018, the LEGO Imperial AT-Hauler measures 12cm (4 inches) high, 32cm (12 inches) long, and 21cm (8 inches) wide. Weighing in at 1.4 kilograms (3.08 pounds), this set is ideal for display or hands-on play. With a price per piece ranging from 10.9p to 12.1c, the Imperial AT-Hauler is sure to make an impact on fans without breaking the bank.
Don't miss your chance to bring home this incredible LEGO Star Wars set. Perfect for collectors or as a gift for the young Star Wars fan in your life, the Imperial AT-Hauler promises countless hours of intergalactic fun and adventure. Assemble your crew, load up the cargo, and embark on a journey through space as you explore the thrilling world of Solo: A Star Wars Story.