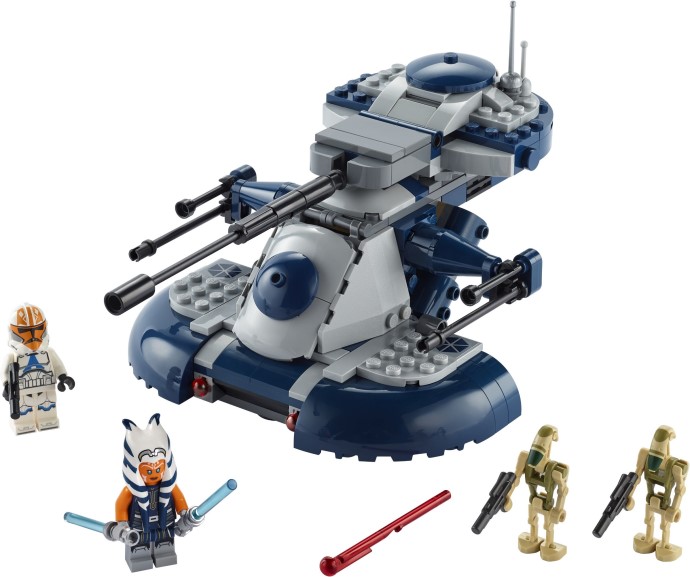 Armored Assault Tank (AAT) – A LEGO Star Wars Set for Fans of The Clone Wars
The Armored Assault Tank (AAT) set from LEGO is the perfect toy for every Star Wars fan and collector. This building kit helps fans recreate thrilling battles filled with actions and stunning visuals, just like those seen in the iconic animated TV series, The Clone Wars. With its realistic details and high-quality design, this 286-piece construction toy is a great gift idea for boys and girls aged 7 years or older.
An Overview of The AAT Set
The AAT set has a lot to offer, from opening hatches with space inside for Battle Droids, LEGO minifigures to spring-loaded shooters and a rotating turret with an elevating cannon. Kids will love exploring all the cool features included in this set, which has been inspired by Star Wars: The Clone Wars. The beautifully designed toy set offers a fun, rewarding building challenge that enables kids to up their creative game one brick at a time.
Awesome Figures That Inspire Role Play
This action-packed set also includes four epic mini-figures, including Ahsoka Tano, Ahsoka's Clone Trooper – AAT Driver Battle Droid, and Battle Droid LEGO figures, complete with an array of cool weapons to inspire role play. Fans will love how well these mini-figures harmonize with the mini-set, especially when confronting one another on the battlefield.
Features That Take Battle Play To The Next Level
Thanks to the many cool features built into this toy set, it greatly inspires battle play among kids. From 2 spring-loaded shooters that mimic real laser fire to a rotating turret armed with elevating cannon that helps droids maneuver better for better hitting accuracy, kids will love to play with this set for hours.
The opening hatches in the front and turret of the armoured tank make it easy to populate the interior with Battle Droids, adding another level of realism to the toy set. The AAT building tank measures over 4.5" (12cm) high, 8.5" (21cm) long and 5.5" (14cm) wide, making it compact enough for deployment into any multi-tiered space. And fans will be pleased that they can also command the vehicle in the LEGO Star Wars: The Skywalker Saga video game for more exciting intergalactic adventures.
Combine it With Other LEGO Star Wars Sets
The best part about the LEGO Star Wars theme is that each set combines uniquely to enhance fans' LEGO Star Wars collection. This toy building kit is perfect for solo or group play, offering endless hours of creative play for kids aged 7+ years.
The Final Verdict
The Armored Assault Tank (AAT) LEGO building toy makes an ideal birthday or Christmas gift for any kid who is a fan of the Star Wars series, especially The Clone Wars. It's perfect for both experienced and novice LEGO builders alike, combining brilliantly with other LEGO sets for even more fun. Parents are sure to appreciate how this construction toy stimulates their children's creative thinking while providing them with an action-packed playing experience.