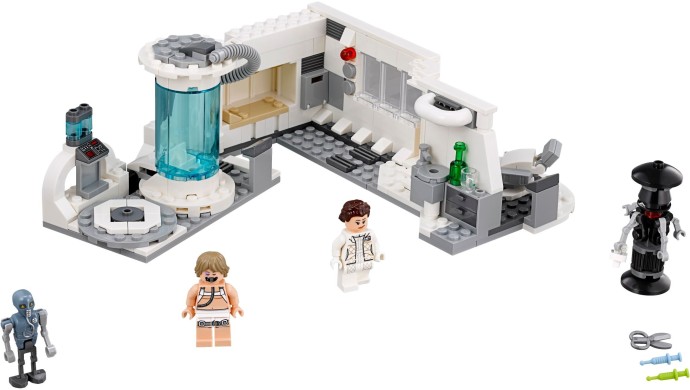 Discover the Intricacies of the Hoth Medical Chamber LEGO Set
The 75203 Hoth Medical Chamber LEGO set allows you to recreate memorable moments from Star Wars: Episode V – The Empire Strikes Back. This set appeals to any ardent fan and LEGO enthusiast alike, as it embodies several elements from the original film. With a variety of features and intricacies added to this model, users can expect a sheer combination of entertainment and immersive building experience.
Inspired by Iconic Scenes from Episode V
One of the most unforgettable scenes in the Star Wars universe is Luke's treatment at Echo Base on the ice planet Hoth. This model enables you to rekindle that special moment by providing all necessary equipment for treating injured Rebel soldiers within an easily foldable design.
Splendid Compilation of Minifigures and Droids
This Hoth Medical Chamber LEGO set generously includes four characters from the movie, two being minifigures of Princess Leia in her distinctive Hoth attire and Luke Skywalker, while characters 2-1B and FX-7 portray medical droids.
A Range of Medical Tools and Features
No detail is spared in creating an authentic environment with this set, as it offers various functional components such as a bacta tank that opens to accommodate a minifigure, a rotating examination chair, bed, wash station, and drawers. Additionally, several accessory elements accompany the set such as syringes, a bottle, cup, and a pair of scissors—completing the whole ambience within Echo Base's infirmary scene.
Unlimited Play and Display Possibilities
Positioned either open or closed, this well-crafted medical chamber measures over 3" (10cm) high, 8" (21cm) wide, and 7" (18cm) deep, making it the perfect size for creative play or display purposes. The LEGO Star Wars 75203 Hoth Medical Chamber set can be a valuable addition to your collection.
Smart Investment Opportunity
Priced reasonably at £34.99 / $29.99 / 39.99€ for a total of 255 pieces, this set is age-appropriate for builders aged 7 and above. With an attractive price-per-piece ratio of 13.7p / 11.8c / 15.7c, this model is worth considering as a smart LEGO investment.
Bottom line
Echoing master designer Hans Burkhard Schlömer's intent, the LEGO Star Wars 75203 Hoth Medical Chamber set embodies the spirit and essence of Episode V while providing endless hours of entertainment to fans of both LEGO and Star Wars."