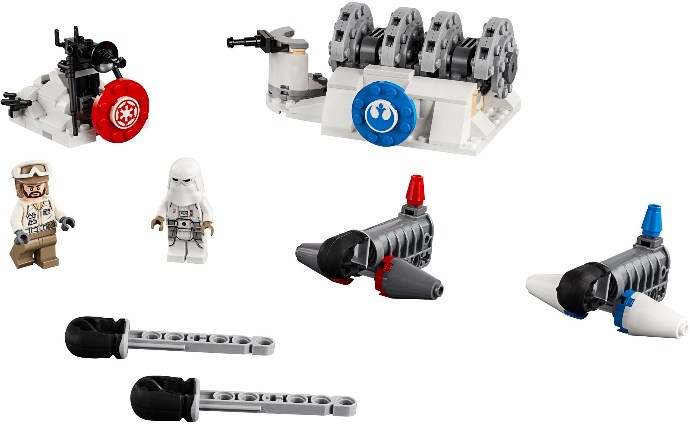 Experience the Thrill of Action Battle Hoth Generator Attack
Dive into the breathtaking world of Star Wars and relive one of the iconic battles in Episode V with the 75239 Action Battle Hoth Generator Attack LEGO® set. Released in April 2019 and designed for kids aged 7 and above, this thrilling build-and-play experience brings together the excitement of creative construction and immersive gameplay.
A Captivating Build for Young Star Wars Fans
Action Battle Hoth Generator Attack set boasts 235 pieces that capture the essence of Star Wars: The Empire Strikes Back. Kids will be elated to build the power generator and tripod gun, complete with figurines representing a Rebel Trooper and Snowtrooper. The anticipation of hitting each other's target keeps young minds engaged, while sending their character flying offers a rewarding challenge for players.
Endless Entertainment for Family and Friends
The inclusion of two LEGO® Star Wars™ minifigures adds extra appeal to this set, making it an ideal gift or collectible item for fans of any age. With powerful shooters and four missiles, kids can share endless hours of entertainment pitting their skills against friends and family members in nerve-wracking target competitions.
Explosive Action Straight from the Big Screen
The players' ultimate aim is to hit their opponent's target – red for Snowtrooper or blue for Rebel Trooper – bringing scenes from Star Wars: The Empire Strikes Back to life. Striking the red target sends Snowtrooper toppling off base along with his tripod gun. Conversely, hitting the blue target brings about a mock explosion in the power generator, sending the Rebel Trooper flying across the battlefield.
Recreate Legendary Star Wars Battles in LEGO® Form
The Action Battle Hoth Generator Attack set readily fits into the shelf of any Star Wars merchandise collector, effortlessly blending in with other themed playsets. As such, fans can keep building and expanding their LEGO® Star Wars™ universe and recreate legendary battles straight from the movies.
Key Dimensions and Features
When fully assembled, the power generator measures approximately 1" (5cm) in height, 5" (13cm) in width, and 3" (10cm) in depth. Similarly, the tripod gun stands at 1" (5cm) high, 1" (5cm) wide, and 2" (7cm) deep. With these manageable dimensions, the Action Battle Hoth Generator Attack occupies a minimal amount of space while providing maximum excitement to ardent Star Wars fans.
Experience the thrill of Action Battle Hoth Generator Attack and ignite your passion for Star Wars with this incredible LEGO® set. Assemble your forces, challenge your friends to exciting duels, and bring the iconic battles from Episode V right into your living room!