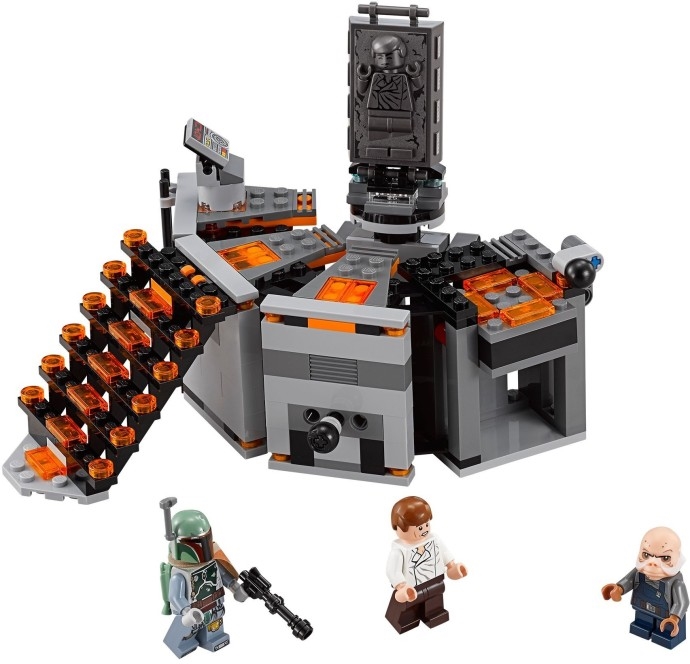 Get Ready to Freeze Han Solo in the Carbon-Freezing Chamber Set
Immerse yourself into the world of Star Wars: Episode V The Empire Strikes Back with the LEGO Star Wars Set 75137, Carbon-Freezing Chamber. With this intricately designed set, you can recreate one of the most memorable scenes from the iconic movie, where Han Solo is captured and frozen in carbonite by Darth Vader. Get ready for an epic galactic adventure as you embark on this thrilling building experience!
Elevate Your LEGO Collection with Cloud City's Carbon-Freezing Chamber
The Carbon-Freezing Chamber boasts 231 pieces that come together to form a detailed and true-to-film interpretation of Cloud City's famous structure. The set features a control center, freeze bed with freeze function, staircase, and elevator, ensuring that every aspect of this remarkable scene is covered. Build up your LEGO Star Wars collection as you assemble this breathtaking piece filled with authenticity and intricate design elements.
Iconic Minifigures Come to Life
No Star Wars set would be complete without its ensemble cast of beloved characters. Set 75137 comes with three sought-after minifigures: Han Solo, practically modeled in his signature attire; Boba Fett, the ever-popular bounty hunter; and Ugnaught, the peculiar pig-like humanoid species found in Cloud City. These minifigures enhance the overall play experience and are terrific additions to any LEGO Star Wars fan's collection.
A Timeless Building Experience for All Ages
Entertain boys and girls aged 7 to 12 as they step into a galaxy far, far away with this engaging set. The Carbon-Freezing Chamber provides hours of entertainment as youngsters construct intricate models while also learning essential construction skills. With a reasonable price per piece ratio and a recommended retail price of £19.99 / $24.99 / 29.99€, this set is suitable for LEGO enthusiasts of all budgets.
Compatibility Meets Creativity
As with all LEGO Star Wars building toys, Set 75137 is compatible with other LEGO construction sets, encouraging fans to mix and match pieces to create entirely new universes. Unleash the full potential of your collection as you combine this iconic scene from The Empire Strikes Back with other LEGO sets, allowing for limitless exploration and creativity in a galaxy far, far away!
Conclusion
Whether you're an avid LEGO collector or just dipping your toes into the Star Wars universe, Set 75137 – Carbon-Freezing Chamber is the perfect choice for an exciting and enchanting building experience. Relive the unforgettable moment from Episode V while you construct this meticulously designed set that encapsulates the very essence of what makes Star Wars so captivating. Assemble Cloud City's iconic Carbon-Freezing Chamber and freeze Han Solo in carbonite as you join Boba Fett and Ugnaught on their galactic mission!