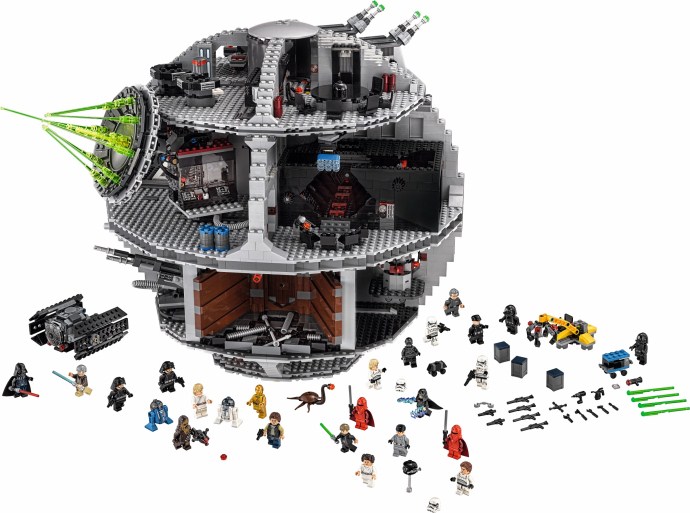 Explore the Intricacies of the Death Star with LEGO's Ultimate Collector Series Set
The time has come for you to relive the most iconic moments from the Star Wars saga with your favorite construction toy. Introducing the LEGO Death Star (Set Number 75159), a part of the Star Wars Ultimate Collector Series subtheme. Released in 2016, this colossal model features over 4,000 pieces and is designed to captivate fans aged 14 and over.
Assembled, the Death Star dimensions stand at an impressive 58.5 x 49 x 19 cm (23 x 19.3 x 7.5 in). Designed by the supremely talented Niels M. Frederiksen, this stunning set was met with much anticipation and success when it was launched on October 1st, 2016, and continued to wow fans until it retired at the end of 2020.
A Priceless Piece for Every Star Wars Fan
At launch, the Death Star set retailed for £409.99 / $499.99 / 487.39€, making it a prized addition to any collection. Each piece of this masterpiece amounted to a mere 10.2p / 12.4c / 12.1c.
This is No Ordinary Galaxy: What to Expect
The highly-detailed LEGO Death Star offers die-hard fans a range of intricately designed environments straight out of the films' most legendary scenes. Some of these interactive features include:
A superlaser control room where the fate of planets is decided
An Imperial conference chamber for plotting galactic domination
A hangar bay complete with Lord Vader's TIE Advanced and moving launch rack
Emperor Palpatine's throne room from which he rules with an iron fist
A droid maintenance room for keeping your astromechs in top shape
A detention block and trash compactor containing the fearsome Dianoga monster
An immersive tractor beam and cargo area for interstellar travel and storage
And last but not least, a pair of turbo lasers with spring-loaded shooters and seats for Death Star Gunners, along with two movable turbo laser towers to defend the station against its Rebel enemies!
Minifigures Galore: The Ultimate Character Collection
No Star Wars LEGO set is complete without its unique cast of characters, and the Death Star certainly does not disappoint. This extraordinary creation comes packed with 27 minifigures and 2 droids, allowing you to immerse yourself in full-scale battles between the Rebel Alliance and the Empire. The diverse range of intricately crafted minifigures includes:
Grand Moff Tarkin, Darth Vader, Emperor Palpatine, Imperial Navy Officer, Imperial Officer, 2 Stormtroopers, 2 Death Star Troopers, 2 Emperor's Royal Guards, 2 Death Star Gunners
Death Star Droid, Obi-Wan Kenobi, Chewbacca, Princess Leia, C-3PO, Han Solo (disguised), Luke Skywalker (Tatooine), Luke Skywalker (disguised) and Luke Skywalker (Final Duel)
Plus fan-favorite droids R2-D2 and an Imperial Astromech!
Compatibility Across the Galaxy
In true LEGO fashion, all Star Wars building sets are compatible with any LEGO construction toy, opening a whole new world of creative building possibilities and storytelling scenarios.
With the Death Star set, you'll have endless hours of fun and satisfaction constructing your favorite scenes and characters from Star Wars: Episodes IV A New Hope and VI Return of the Jedi. Join forces with its expansive cast of 23 minifigures, recreate epic duels in incredible detail, and let your creativity soar to a galaxy far, far away!
Product Specs
Product Specs
Product Name:
Death Star
Pieces
4016
RRP
£409.99 / $499.99 / 487.39€
Release Year
2016
Theme
Star Wars
Instructions
Lego Death Star Instructions