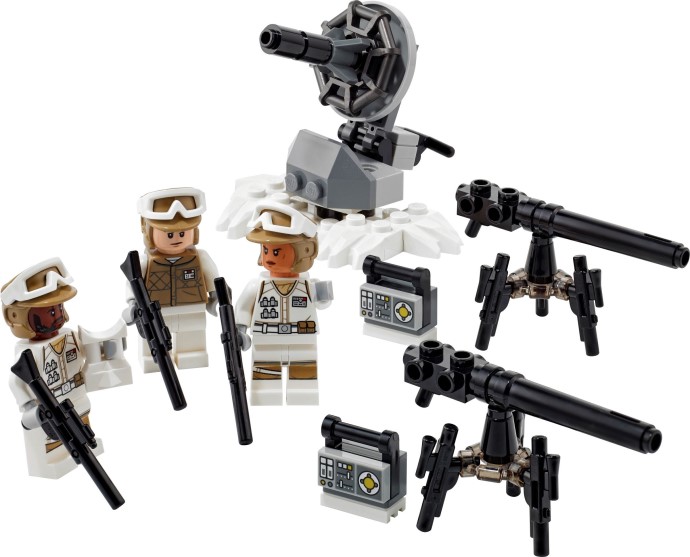 Discover the Thrilling Defense of Hoth LEGO® Set
Get ready to join the epic battle on the ice planet with the new LEGO® Star Wars™ Defense of Hoth set (40557)! This exciting addition to the Star Wars Episode V: The Empire Strikes Back collection is perfect for young fans looking to recreate a classic scene. Released in 2022, this amazing set has everything you need to experience thrilling adventures and engage in creative play.
A Stellar Lineup of Minifigures and Accessories
The Defense of Hoth set features three highly detailed Hoth Rebel Trooper minifigures, complete with their own blaster rifles. They stand bravely against the might of the Empire – ready to defend and protect their base from relentless attacks. A dynamic rotating laser cannon blaster helps them push back against the Imperial forces, providing endless fun and action-packed battles on the frozen tundra of Hoth.
Easy-to-Build Set: Fun for Everyone
This 64-piece building toy is suitable for kids aged six and up, making it an ideal gift for holidays or birthdays. The clever design ensures that young builders can easily assemble this compact but engaging set – a fantastic addition to your growing LEGO Star Wars collection! Additionally, two tripod guns add extra firepower to the scene, ensuring that there will never be a dull moment as your children immerse themselves in galactic conquests.
Quality You Can Trust
Designed by expert Henrik Andersen, this affordable set offers great value at only £13.49 / $14.99 / 14.99€. With its recommended retail price and price per piece sitting comfortably at 21.1p / 23.4c / 23.4c, rest assured you are investing in a high-quality experience backed by the LEGO brand. The age range for this set is aimed at children aged 6 and above, making it suitable for younger fans ready to explore intergalactic adventures as they hone their skills and creativity.
Compact and Portable: Play Anywhere
The Defense of Hoth set has dimensions of 25 x 15 x 3.2 cm (9.8 x 5.9 x 1.3 in) – compact enough to fit inside a child's backpack, so they can transport it with ease and enjoy delightful playtime wherever they are! The rotating laser cannon blaster measures 2 in. (5 cm) high, 2.5 in (7 cm) wide, and 2.5 in. (6 cm) deep, offering flexibility and portability to accompany imaginative kids on their playtime adventures.
In Conclusion
Bring home the excitement and thrill of the iconic Defense of Hoth scene with this stunning LEGO Star Wars accessory set! With amazing features like three detailed Hoth Rebel Trooper minifigures, a buildable rotating laser cannon blaster, two tripod guns, and plenty of opportunities for solo or collaborative play, this set will soon become a go-to favorite among kids aged six and above— igniting creativity and providing hours of irresistible fun.