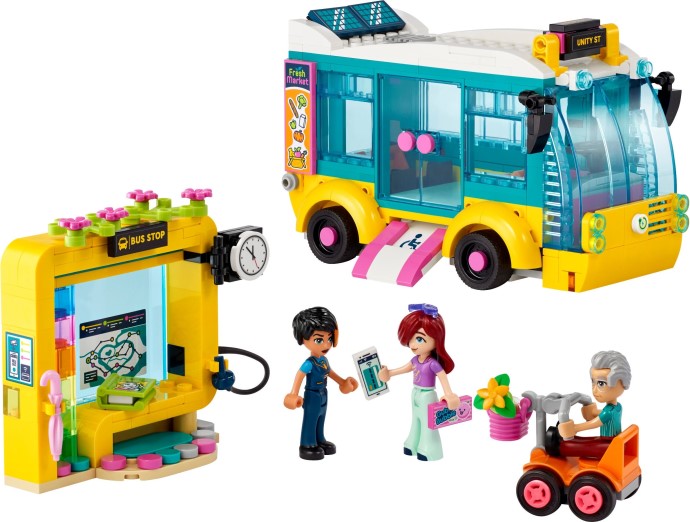 Introducing the Riveting LEGO® Friends Heartlake City Bus (41759) Set
Now is the time for young builders aged 7 and above to gear up for a delightful role-playing action with the latest launch from the LEGO® Friends collection – Heartlake City Bus (41759). With a host of robust yet playful elements, this set introduces your child to a fun-filled world of creativity and imagination.
Unleash Your Imagination
Crafted by the acclaimed LEGO® designer David Tauzia, the Heartlake City Bus set consists of 480 meticulously designed pieces, perfect for engaging young minds in an assured building spree. The set brings together charmingly detailed mini-figurines, an intricately structured bus, and a bus stop sign ready for your child to build. This allows children to witness their creations come alive, promoting their confidence and stoking their creative urges.
A World of Role Play Awaits
This unique toy set creates a vast stage for your child's burgeoning narrative skills. Each component of the set serves as fodder to unleash your child's storytelling potential. They can create tales about Paisley — an introverted persona interacting cordially with the bus driver or an elderly rider on a mobility scooter. Through such role-playing scenarios, your child gets to explore social interactions and experience empathy in real-world situations.
Brimming with Accessories
The Heartlake City Bus set is not just about building; it's about cultivating real-life experiences through play. The inclusion of accessories such as an 'electric' charger replicating the traction sub-station or Paisley's book and smartphone amplifies intrigue and lends authenticity to your child's role-playing journey. Whether it's playing around with an umbrella on a rainy day or picking up a bouquet before visiting a friend, these thoughtful additions are bound to bestow endless play possibilities.
Bring Home The Fun Today!
Priced at just £49.99 / $49.99 / 54.99€, this set is not just a toy but an enriching experience that inspires and entertains kids in equal measure. Its size — approximating 38.2 x 26.2 x 5.7 cm (15 x 10.3 x 2.2 in), keeps it handy while ensuring it's large enough for small fingers to assemble with ease.
Further Boost with LEGO® Builder App
To aid your budding builders during their creative process, LEGO includes access to its intuitive Builder app that enables kids to view models in 3D, keep track of their progress and save their completed sets.
Heartlake City – The New neighbourhood on the block!
Welcome to Heartlake City — the expansive LEGO® Friends universe that landed in January 2023. Packed with new characters and exciting locales, each telling its own story, this opportunity presents kids with infinite adventures waiting for them at every corner.
The LEGO® Friends Heartlake City Bus opens doors for young imagination, making it an excellent gifting option for any child aged 7 or above who would love to build their creative prowess while having immense fun!