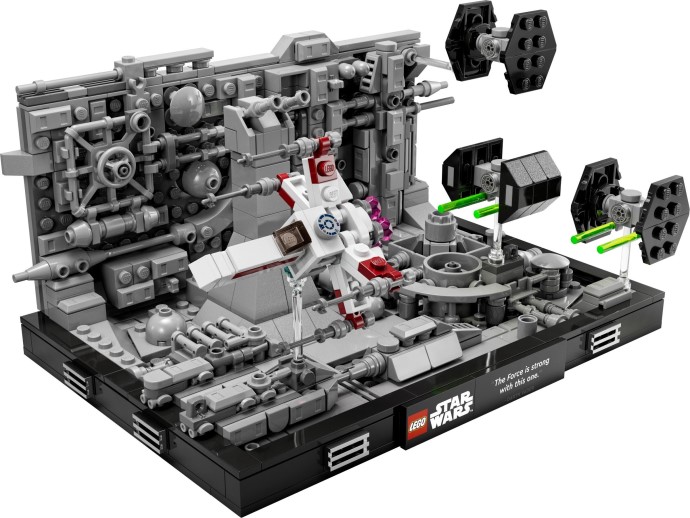 Relive the Adventure with the Death Star Trench Run Diorama
Take a break from your everyday routine and escape to a galaxy far, far away with the highly detailed Death Star Trench Run Diorama (75329) LEGO set. Based on the iconic moment in Star Wars: A New Hope, this build-and-display model allows you to create an unforgettable piece of Star Wars history as part of your own collection.
Attention to Detail for a Captivating Recreation
Carefully guided by the creative mind of designer Jme Wheeler, this 665-piece set offers a challenge fit for experienced LEGO builders and adult Star Wars fans alike. With each piece, you'll recreate the intense atmosphere of the Death Star Trench Run, featuring the pursuit of Luke Skywalker's X-wing by Darth Vader's TIE Advanced fighter and two TIE fighters. From the surface of the infamous Death Star to every intricate detail of each spacecraft, this diorama immerses you in the epic world created by George Lucas.
An Exemplary Addition to Your Collection
The Death Star Trench Run Diorama forms part of a collectible series of LEGO Star Wars build-to-display models, intended to appeal to adult fans. The included Darth Vader quote plaque – "The Force is strong with this one" – adds a touch of nostalgia to this lovingly designed centerpiece. Not only will this model look great among other LEGO creations or on its own, but it also makes for an ideal gift to that special Star Wars aficionado in your life.
Quality and Safety You Can Trust
As with all LEGO products, the Death Star Trench Run Diorama (75329) undergoes rigorous testing processes to ensure its quality and safety. Each brick and piece is designed to comply with industry standards, guaranteeing a seamless and secure connection every time you build. Whether building alone or as part of a group, you'll find that this set offers endless opportunities for both fun and creativity.
Conclusion
The Death Star Trench Run Diorama (75329) is an engaging and challenging LEGO Star Wars experience, perfect for adult fans and avid builders. This stunning centerpiece will take you on a journey back to the origins of the saga, providing a unique way to connect and unwind through the power of creative, hands-on construction. So embrace your inner Jedi, dive into a new adventure, and bring home a piece of Star Wars history with this must-have diorama.