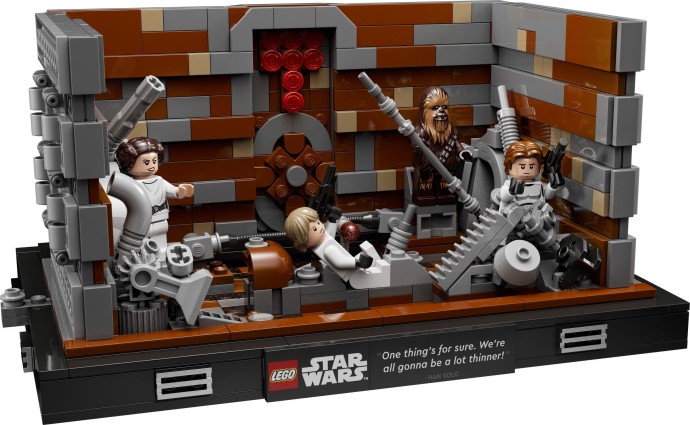 Introducing the Death Star Trash Compactor Diorama
Immerse yourself in a galaxy far, far away with the brand new Death Star Trash Compactor Diorama (75339) LEGO set. This highly detailed model is inspired by the iconic scene from Star Wars: A New Hope and is perfect for fans who want to relive their favorite moments from the classic film. Whether you're a LEGO enthusiast or just a die-hard Star Wars fan, this magnificent set will be an exceptional addition to your collection.
Stellar Specifications
The Death Star Trash Compactor Diorama consists of 802 meticulously designed pieces, including six LEGO minifigures that bring the scene to life. You'll find Luke Skywalker and Han Solo disguised as Stormtroopers, Princess Leia, Chewbacca, C-3PO, and the lovable R2-D2 droid figure. The recommended age range for builders is 18+, ensuring that this remarkable set provides a satisfying challenge.
A Faithful Recreation
This memorable diorama showcases authentic details from Garbage Compactor 3263827 such as moving walls, a dianoga's head, and a compactor control panel where C-3PO and R2-D2 frantically attempt to shut down the system. Adding another layer of nostalgia is a plaque featuring Han Solo's famous line: "One thing's for sure. We're all gonna be a lot thinner." The result is a captivating display piece that truly captures the essence of this classic Star Wars scene.
Experience the Joy of Building
For those who adore both LEGO and Star Wars, this Death Star Trash Compactor Diorama set offers hours of entertaining building fun. An included step-by-step instruction booklet guides you through the complex process, ensuring an enjoyable and satisfying assembly experience. Treat yourself or gift this exquisite set to a fellow fan—it's sure to inspire hours of creativity and foster cherished memories of the Star Wars universe.
Grow Your Collection
The Death Star Trash Compactor Diorama is part of a collectible series of buildable LEGO Star Wars models, each featuring an iconic cinematic moment. Expand your intergalactic collection with these stunning display pieces that spark nostalgia for any Star Wars aficionado.
Quality You Can Trust
LEGO has been providing top-quality toys since 1958, and their commitment to excellence is evident in the Death Star Trash Compactor Diorama set. All components are rigorously tested to ensure they meet strict safety standards, making this lasting addition to your home both safe and enjoyable for fans of all ages. Unleash your creative Force and embark on a building journey with this incredible Death Star Trash Compactor Diorama (75339) set!