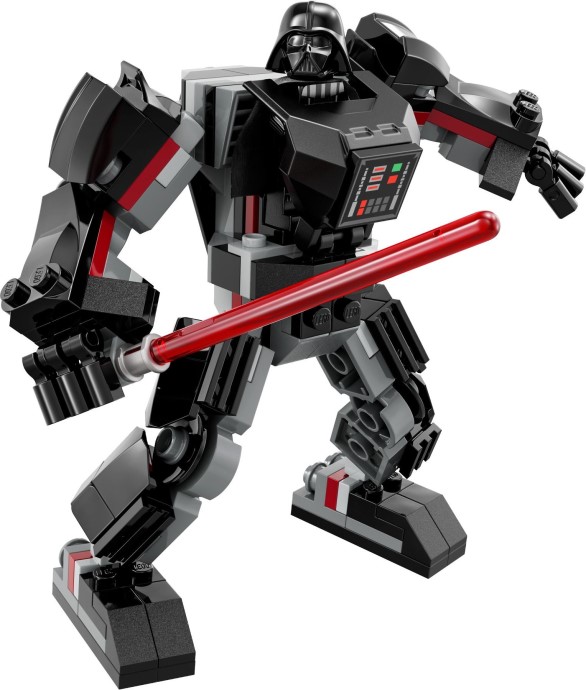 Discover the Dark Side with the Darth Vader Mech LEGO Set
Introducing the Darth Vader Mech (75368), an incredible addition to the LEGO Star Wars collection for fans of all ages. This new and exciting set invites young builders to embrace their love for the galaxy's dark side, offering hours of imaginative fun while creating a unique and thrilling playtime experience. Designed for children aged 6 and up, this beautifully designed mech offers plenty of features for both active play and display purposes, becoming a must-have collectible for any Star Wars enthusiast.
A Darth Vader LEGO for Every Fan
Completing the Darth Vader Mech set will leave children in awe as they uncover an intricate and detailed buildable mech version of the iconic Star Wars villain. Featuring an opening cockpit made specifically for a LEGO minifigure, this fearsome toy allows children to imagine themselves directly controlling the Darth Vader Mech in epic battles. The posable hands of this menacing mech are capable of holding a massive red lightsaber, emphasizing the dark side's sheer power and ruthlessness in every corner of the universe.
Easy-to-Build and Impressive Collection
The focus on usability ensures that budding LEGO architects can enjoy a simplified building process without compromising on intricate details. The set boasts 139 pieces, providing plenty of opportunities to explore creativity while still being manageable for younger fans. The inclusion of intuitive instructions through the LEGO Builders app further enhances children's experience by allowing them to explore and learn as they build.
Darth Vader Mech is part of a series of collectible LEGO Star Wars mechs that offers even more incredible builds, such as Boba Fett Mech (75369) and Stormtrooper Mech (75370) sets. By combining these sets, young adventurers can devise their own stories or recreate unforgettable scenes from their favorite Star Wars films and episodes.
A Gift Any Child Would Cherish
With its eye-catching design and engaging gameplay, the Darth Vader Mech LEGO set is an ideal gift or surprise for any child who adores Star Wars. The set is priced at £12.99/$15.99/€15.99, making it accessible to all fans who want to enjoy a high-quality yet budget-friendly building experience. This unique set will undoubtedly hold a special place in every child's heart, igniting their creativity and sense of wonder as they join the dark side.
A Commitment to Quality and Safety
No matter the adventure your young one embarks on with their Darth Vader Mech, you can have peace of mind knowing that LEGO products undergo rigorous testing. Every brick and component goes through a series of quality checks, ensuring adherence to industry standards and safety regulations while providing consistent and secure connections for builder ease.
Unleash your child's creativity and imagination with the fascinating world of LEGO Star Wars mechs by gifting them the iconic Darth Vader Mech (75368) set. Let them explore new adventures and create unforgettable memories as they embark on a journey to the dark side.