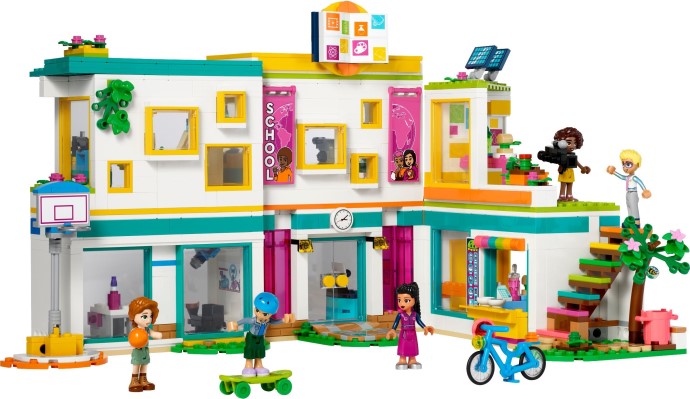 Welcome to the Heartlake International School by LEGO®!
If your little ones are itching to expand their horizons and delve into diverse cultures, then the LEGO® Friends Heartlake International School, set number 41731, is just the toy for them. Released on 1st January 2023, this heartwarming depiction of an international school is sure to refine their role-playing skills while concurrently providing an enriching experience.
A Global Classroom in Your Living Room
This splendid addition to the 'Friends' theme under LEGO's sub-theme 'Heartlake City', takes your child's imagination on an exotic tour around the world within the cosy confines of your family room. Encasing within itself a myriad of classrooms that evoke interesting narratives with lesson-themed decor, it allows children to explore different activities and classes within its modular frame.
Nourishing Young Minds
Young minds brimming with curiosity can indulge in an eclectic mix of academic and extracurricular pastimes through in-built features like art and media rooms, a science class complete with microscopes, and even a caffeine-free cafeteria! But it's not all work at the LEGO® Heartlake International School; there's ample room for play too! Comes complete with vibrant outdoor settings adorned with a basketball net and accessories like skateboards and bikes offering plenty of opportunities for outdoor gallivanting. And let's not forget about the adorable class hamster, Bunsen, who needs his share of care as well!
Interactive Building Experience
What differentiates this ingenious LEGO® set from its peers is perhaps its fluid seamless integration with the LEGO Builder app. The app pioneers an intuitive building adventure – making use of illustrations and 3D models allowing relief during complex assemblies while fueling a child's progress and creativity.
Unboxing Friendship with Heartlake City
The inclusion of five unique mini-dolls – Aliya, Olly, Autumn, Ms. Malu Hale, Niko – add a rare dimension to this wonderful school setting. They bring to fruition thrilling tales of friendship, camaraderie and life skills amidst a vivid background of classrooms, relaxation areas, entrances filled up with lockers and washrooms all meticulously designed for hours of fun-filled yet significant role-play adventures.
A Timeless Gift that Keeps on Giving
With over 985 pieces set to build unforgettable impressions on kids aged 8+ who adore pretend play, this set provides incredible value – unlocking hours upon hours of constructive fun at a reasonable rate. The price per piece comes down to 9.1p / 10.2c / 10.2c making it an enticing proposition for parents looking at gifting their cherishable ones something unforgettable.
Uncompromising on Quality & Safety
No stranger to adhering strictly to industry benchmarks for quality and safety standards, LEGO® continues its uncompromising journey towards perfection with this exquisite set – ensuring complete compatibility throughout its construction and rigorous testing for safety hazards leaving no stone unturned.
The era of Heartlake City beckons your youngsters into a splendid world filled with diverse friendships and stimulating educational environments that produce long-lasting memories through joyous playtimes!