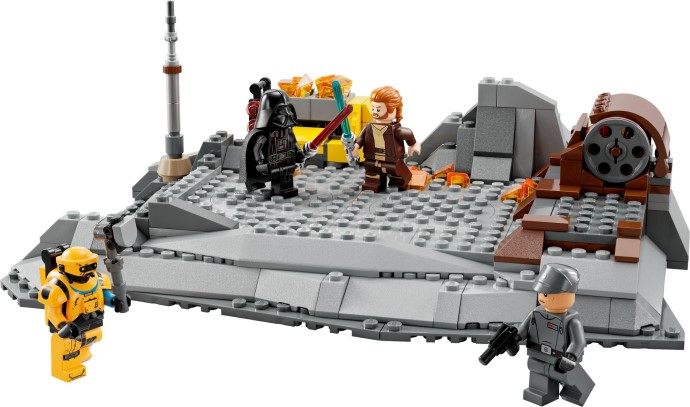 Experience the Ultimate Duel with Obi-Wan Kenobi vs. Darth Vader LEGO® Set
Bring the legendary showdown between Obi-Wan Kenobi and Darth Vader to life with this remarkable Obi-Wan Kenobi vs. Darth Vader LEGO® Star Wars™ (75334) set! Perfect for Star Wars enthusiasts and LEGO fans alike, this epic kit allows for endless hours of creative building, imaginative play, and countless opportunities to recreate that iconic battle from the Star Wars: Obi-Wan Kenobi series.
A Battle to Remember
This incredible 408-piece playset features an intricately designed battlefield with 2 rotating battle platforms that allow you to stage intense lightsaber duels. True to the saga, the explosive battleground can be divided by a fire pop-up function, adding an extra layer of excitement and drama! The stage is set for fun as your favorite characters jump into action aboard a mining cart that can be knocked over when it's time for things to get wild.
Iconic Characters Included
Complete your intergalactic adventure with the inclusion of four highly detailed LEGO minifigures – Obi-Wan Kenobi and Darth Vader each wielding their distinctive lightsabers, Tala Durith armed with a blaster pistol, and the droid NED-B featuring a power hammer and backpack accessory element. With this impressive lineup, you'll feel inspired to recreate scenes from Star Wars: Obi-Wan Kenobi or invent your own thrilling adventures!
A Gift for Fans of All Ages
Looking to delight fellow Star Wars fans? This creative kit is suitable for ages 8 and up and makes an exceptional birthday or holiday gift for those who appreciate the magic of a galaxy far, far away. Step-by-step illustrated building instructions are included, ensuring budding LEGO builders can assemble this fantastic set with confidence.
Fuel Creativity and Storytelling
With a history dating back to 1999, LEGO® Star Wars™ sets have continually captivated fans of both the legendary story and the beloved toy brand. The theme has become one of LEGO's most successful, offering countless buildable toys that inspire creative play and provide a unique way for fans to connect with their favorite characters, vehicles, and scenes from the iconic universe.
Quality and Safety Always in Focus
LEGO® takes pride in adhering to strict quality standards, ensuring all bricks connect seamlessly and securely. Furthermore, each component is subject to rigorous testing, including dropping, heating, crushing, and twisting – all for the purpose of complying with demanding global safety standards. You can experience peace of mind knowing you are investing in a safe and premium-quality product when you purchase a LEGO Star Wars (75334) Obi-Wan Kenobi vs. Darth Vader buildable toy playset.
Unleash Your Inner Jedi
Get ready to experience an unforgettable duel between two iconic Star Wars characters with this extraordinary Obi-Wan Kenobi vs. Darth Vader LEGO® set (75334). Immerse yourself in the intricate world-building process and let your creativity shine through as you explore new galaxies, create heroic storylines, and make cherished memories!