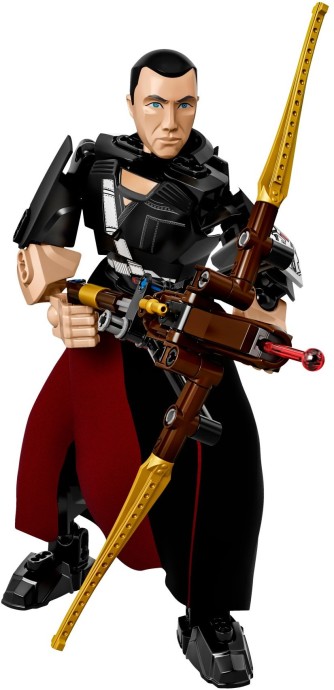 Explore the Exciting World of Chirrut Îmwe in LEGO Star Wars Universe
Fans of Star Wars and LEGO enthusiasts alike will be thrilled with the LEGO Star Wars Buildable Figures subtheme, offering an amazing opportunity to recreate beloved characters from the epic saga. The Chirrut Îmwe figure, Set Number 75524, is one such example that brings the galactic warrior to life, as seen in the blockbuster movie, Star Wars: Rogue One.
Launched in 2017, this set boasts 87 pieces and promises a fun, age-appropriate build for young Jedi aged 8 to 14 years old. The LEGO Chirrut Îmwe figure stands at an impressive height of over 9" (23cm) tall when completed and features exciting details such as a folding bowcaster with spring-loaded shooter and a textile tunic. Priced at just £19.99 / $24.99 / 24.99€, it offers a favorable price-per-piece ratio, making it an affordable addition to any Star Wars collection.
A Buildable Figure Filled with Action-Packed Features
The Chirrut Îmwe figure is highly posable, allowing builders to move its limbs into various battle stances for countless hours of imaginative play. The special folding bowcaster includes a spring-loaded shooter, where young fans can practice their aim in the ongoing fight against the Empire.
The decorated elements add another layer of authenticity to this sturdy and durable design, ensuring that it can withstand even the most intense action sequences. With spare ammo mounted on his back, Chirrut Îmwe is always prepared for any scenario that comes his way.
Experience More Galactic Adventures with Companion Sets
The fun doesn't have to end with the Chirrut Îmwe figure alone. LEGO also offers a companion set, 75525 Baze Malbus, allowing builders to assemble their very own team of heroes and recreate epic battles against Imperial forces. Join forces with these legendary characters as they take on daring missions in the Star Wars universe.
Continue the Legacy with LEGO Star Wars
The Chirrut Îmwe buildable figure is a testament to LEGO's impressive design efforts and its commitment to staying true to the essence of Star Wars while injecting fun and creativity into the building process. Whether you're an avid collector or just getting started in the exciting world of LEGO Star Wars, this set is sure to provide hours of enjoyment and inspiration for future galactic adventures.