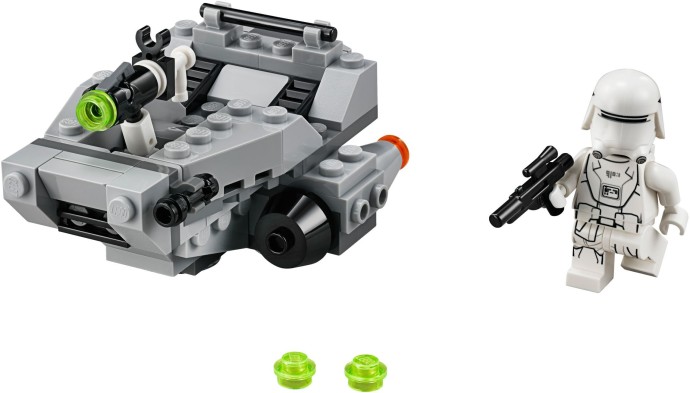 Discover the First Order Snowspeeder Microfighter!
Speed across the Star Wars universe with the LEGO® 75126 First Order Snowspeeder Microfighter, an exciting and collectible addition to any true fan's toy shelf. This compact and detailed recreation of the iconic snowspeeder from the popular franchise is bound to spark hours of imaginative play and is designed to bring fans closer to the action in a galaxy far, far away.
Thrilling Features and Authentic Design
The First Order Snowspeeder Microfighter pack boasts some fantastic features that make it ideal for interactive and immersive play. From its big engines and rotating stud shooter to its open cockpit with room for one minifigure, this set is designed for high-speed chases, crucial missions, and thrilling ice-planet-themed combat! Plus, with all the extra stud shooter ammunition included, engaged players will have everything they need to repel enemy forces and keep their microfighter secure.
Included Minifigure: First Order Snowtrooper
This Star Wars LEGO® set wouldn't be complete without a fearless pilot! Included in your purchase is a First Order Snowtrooper minifigure equipped with a blaster weapon, which can be stored on the microfighter itself. To ensure your pilot stays protected during fierce battles, you'll also receive a unique First Order Snowtrooper helmet accessory –a must-have addition for any LEGO® Star Wars collection.
Perfect Pairing: 75125 Resistance X-Wing Fighter Microfighter
If you're looking for even more galactic adventure, add the 75125 Resistance X-Wing Fighter microfighter to your collection! This companion set is designed for ice-planet-themed combat alongside your First Order Snowspeeder Microfighter, making it the ultimate pair for an exciting and interactive Star Wars experience. By combining these sets, your battles will be taken to a whole new level of intensity!
Set Specifications and Age Suitability
Ideal for children aged 6 through 12, the First Order Snowspeeder Microfighter LEGO® set contains 91 pieces and promises hours of engaging play. The set is affordably priced at £8.99 / $9.99 / 9.99€, with an average price per piece of 9.9p / 11.0c / 11.0c—a great deal for young fans or seasoned collectors alike!
Compact Size for Action-Packed Play
The dimensions of the fully assembled microfighter are a compact 14.1 x 12.2 x 4.6 cm (5.6 x 4.8 x 1.8 in), making it the perfect size for little hands to maneuver as well as display on a shelf or desk. With its lightweight build of 0.1Kg (0.23 lb), your child can easily carry their snowspeeder with them wherever they go.
In conclusion, the LEGO® First Order Snowspeeder Microfighter (Set number: 75126) is an exciting addition to any Star Wars fan's toy collection. With its thrilling features, authentic design, and added minifigure and accessories, it's sure to inspire endless creativity and fun-filled playtimes that transport young minds straight into the heart of their favorite cinematic universe.