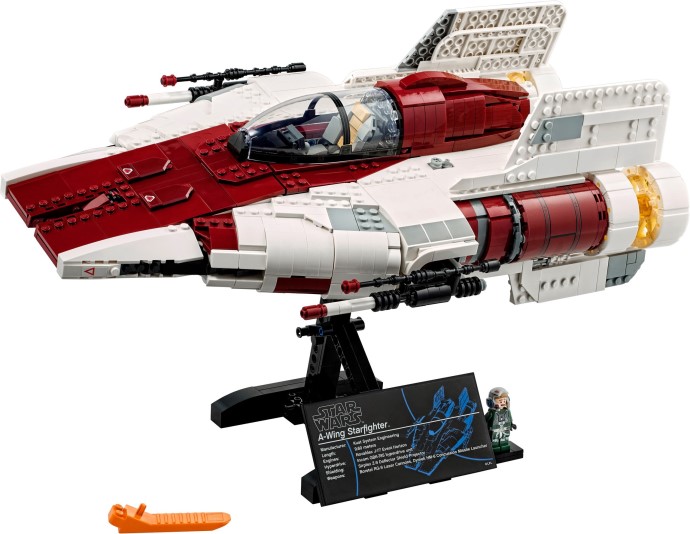 A-wing Starfighter: A Remarkable LEGO® Addition to the Star Wars Collection
The Ultimate Collector Series from LEGO® has released yet another impressive model for the die-hard Star Wars fans, a masterpiece built from the 75275 set. The iconic A-wing Starfighter comes to life in this highly detailed and beautifully crafted construction kit. The fan-favorite vessel, which made its debut in the classic movie Star Wars: Return of the Jedi, can now have a special place on your shelf or workspace. Join us as we explore the various features and fun facts about this outstanding model.
Distinctive Design and Authentic Details
Any Star Wars aficionado will appreciate the accuracy with which the designers replicated the A-wing's sleek, arrowhead shape using only LEGO bricks. Laser cannons that pivot and a new-for-May-2020 removable cockpit canopy further demonstrate the dedication to authentic detailing. Assembling this 1,673-piece set is truly an enjoyable challenge for adults (ages 18+), whether tackled individually or with friends and family.
More Than Just A Building Set – It's An Exquisite Display Piece
Along with the A-wing Starfighter itself, this premium set also offers extras to enhance its presentation value. It comes complete with an adjustable display stand, information plaque, and even an A-wing Pilot minifigure. Keep an eye out for other collectible builds-and-display items like the Stormtrooper Helmet (75276) and Boba Fett Helmet (75277) to expand your Ultimate Collectors Series.
Connect with Fellow LEGO® Star Wars Enthusiasts
Serving as a part of the much-celebrated Star Wars Ultimate Collector Series (UCS), this A-wing model ensures you stay engaged with fellow enthusiasts who admire the intricate details of these stunning models. With diverse interests ranging from recreating famous movie scenes to building and displaying impressive models, this vast community truly has something for every Star Wars fan.
Quality and Safety – The LEGO® Promise
A labor of love for adults and an extension of their passion for Star Wars, this A-wing Starfighter set maintains the high-quality standards of LEGO® in line with all their products. Be confident that every brick and piece will connect seamlessly without needing to use the Force. Moreover, with a strong focus on safety guidelines, you can rest assured that this extraordinary model meets the top industry safety standards for any galaxy!
Unleash Your Creativity with A-wing Starfighter (75275)
Whether you're looking to soothe your mind after a busy day or indulge in a nostalgic journey back to the Star Wars universe, this enchanting A-wing Starfighter building set is an ideal choice. Challenge yourself with this complex yet rewarding construct and be a proud owner of one of the most elegant display pieces from the Star Wars Ultimate Collector Series.