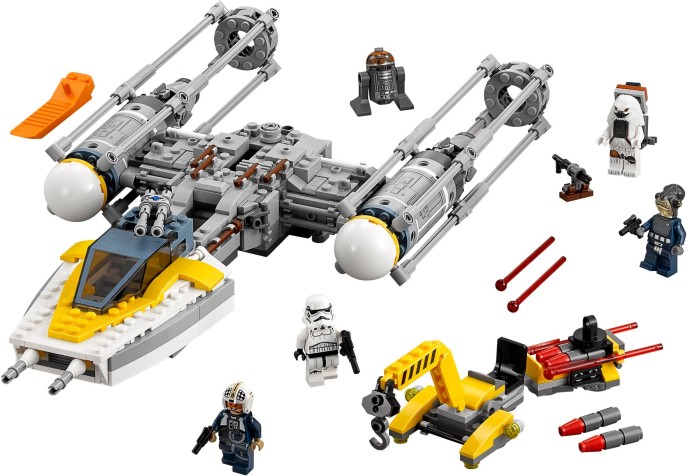 Explore the Galaxy with the Y-wing Starfighter LEGO Set
Take your LEGO Star Wars collection to new heights with the amazing 75172 Y-wing Starfighter set. A fan-favorite spacecraft from the acclaimed Rogue One: A Star Wars Story, this iconic starship has been meticulously recreated using LEGO bricks to provide hours of intergalactic fun and adventure for kids aged 8 to 14. With its numerous play-starting features, impressive design, and authentic details, this set is sure to enthrall Star Wars fans and LEGO enthusiasts alike.
Feature-Packed Design for Endless Play
The Y-wing Starfighter comes with an array of engaging functionalities to keep kids entertained for hours. Key highlights include retractable landing gear, an opening minifigure cockpit, rotating guns, dual spring-loaded shooters, and a gearwheel-operated bomb-drop function for some thrilling aerial action during rebel missions. The level of detail and practicality incorporated in this design truly captures the essence of the original starship from the movie.
Inclusive Weapons Loader with Additional Minifigures
To provide even more immersive play experience, this set includes a weapons loader complete with a turning crane and extra ammunition. Little rebels can use this addition to prepare their forces for battle against the dark side. The set also comes with a line-up of five minifigures: Y-Wing Pilot, Admiral Raddus, Moroff, a Stormtrooper, and a Rebel Astromech Droid — perfect for recreating scenes from Rogue One or embarking on unique storylines within the LEGO Star Wars universe.
Value and Compatibility with Other LEGO Sets
The 75172 Y-wing Starfighter comprises 691 pieces and has a reasonable price per piece ratio given its complexity and features. It retails at £64.99 / $59.99 / 69.99€, offering a relatively affordable option for fans wanting to expand their LEGO Star Wars collections. As with all LEGO building toys, the Y-wing Starfighter is compatible with other offerings from the brand, paving the way for limitless combinations and creative possibilities.
Take Measurement before Blasting Off
Being aware of the dimensions and weight of the assembled Y-wing Starfighter is crucial to finding an ideal display or play area for this impressive set. The final model measures 48 x 28.2 x 6.1 cm (18.9 x 11.1 x 2.4 in), while the weapons loader comes in at 6″ long, 3″ high, and 2″ wide. The combined creation weighs a manageable 0.87kg (1.91 lb), making it easy for young pilots to swoop in for some exciting aerial adventures.
Join the Rebellion with the Y-wing Starfighter
In conclusion, the LEGO Star Wars 75172 Y-wing Starfighter presents an opportunity to not only add an iconic character to your collection but also experience an enthralling playtime that brings kids closer to the epic space saga we all love and admire. So gear up and prepare to conquer the galaxy as you take charge of this remarkable starship and join forces with the Rebel Alliance!