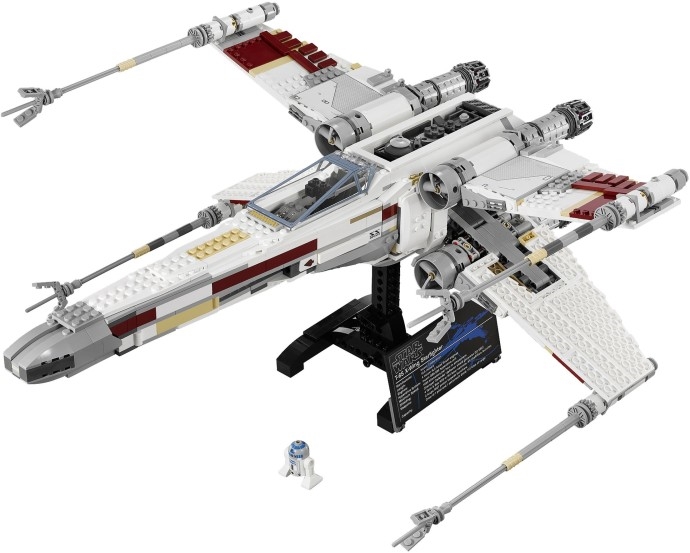 Explore the Red Five X-wing Starfighter LEGO Set
Embark on an intergalactic adventure with one of the most iconic spacecrafts in the Star Wars universe, the Red Five X-wing Starfighter. Released in 2013 as a part of the Ultimate Collector Series, this detailed LEGO set will leave Star Wars enthusiasts brimming with excitement as they assemble this legendary starfighter and recreate epic battle scenes.
A Star Wars Classic: The Ultimate Collector Series
LEGO's Ultimate Collector Series is known to satisfy even the most avid Star Wars fans. The incredibly detailed Red Five X-wing Starfighter is certainly no exception. With 1559 pieces to assemble, this meticulously designed model pays homage to its film counterpart, capturing every detail of the starship that played a crucial role in destroying the ominous Death Star.
Breathtaking Features and Design
The Red Five X-wing Starfighter LEGO set provides hours of immersive building experience, resulting in a breathtaking model that showcases opening wings and cockpit – much like its on-screen inspiration. Adding even more authenticity to the spacecraft, R2-D2 – everyone's favorite astromech droid – accompanies the starfighter's journey and can be found seated behind the cockpit.
Technical Specifications and Value
Designed for enthusiasts aged 16 and above, this impressive LEGO masterpiece boasts a price per piece of 10.9p / 12.8c / 12.8c. With dimensions measuring 58.2 x 37.8 x 8.7 cm (22.9 x 14.9 x 3.4 in), it's sure to be an eye-catching display piece once fully assembled. Weighing in at a solid 2.32kg (5.11lb), this build is as robust as it seems. The Red Five X-wing Starfighter retailed for £169.99 / $199.99 / 199.99€ upon its release, offering a justifiable investment for those who admire highly detailed LEGO creations and Star Wars memorabilia.
Showcase Your Galactic Accomplishment
Completing the assembly of this magnificent spacecraft merits pride of place amongst your collection or display area. To help frame your work of art appropriately, the Red Five X-wing Starfighter comes with its own dedicated display stand and data sheet label, proudly showcasing its detailed design to those who marvel at it.
Recreate Iconic Moments in Cinema
By building the Red Five X-wing Starfighter, die-hard Star Wars fans have the opportunity to immerse themselves in one of movie history's most legendary battles: the fight above the planet Yavin™. Experience what it felt like when Luke Skywalker took control of this iconic craft and delivered the proton torpedo that decimated the menacing Death Star – all from the comfort of your own home.
In summary, the Red Five X-wing Starfighter LEGO set presents a delightful and challenging build experience for both LEGO and Star Wars fans alike. With exceptional attention to detail, it allows you to further explore a beloved galaxy far, far away and recreate momentous scenes from a timeless film series.