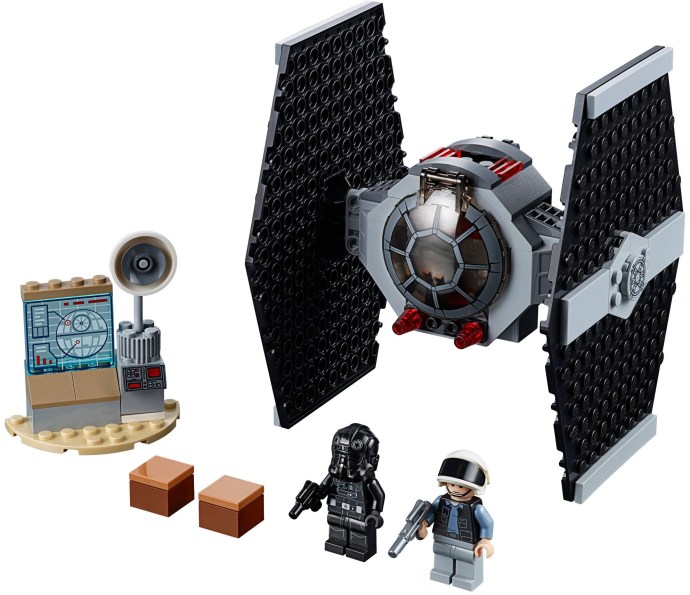 Experience Intergalactic Fun with the TIE Fighter Attack Set
The 75237 TIE Fighter Attack, a fantastic addition to the Star Wars LEGO® universe, promises endless fun and excitement for young Imperial pilots and Star Wars enthusiasts alike. This easy-to-build set provides a captivating introduction to the world of LEGO Star Wars starship battles, transporting builders to a galaxy far, far away.
Building Confidence Through Creative Play
With its launch in 2019, this Star Wars set was designed specifically for children aged four and above. The kit offers a unique combination of simplicity and fun, featuring special Starter Bricks that enable young first-time builders to experience the pride and joy of constructing their own model. This set is ideal for fostering confidence and nurturing creativity in children, as they explore the inspiring Star Wars setting.
A Dynamic Duo of Minifigures
The 75237 TIE Fighter Attack includes two iconic LEGO® Star Wars™ minifigures — a TIE Fighter Pilot and a Rebel Fleet Trooper — to fire up your child's imagination, reenacting epic battles from the legendary movie series. The set comes equipped with a small Rebel command station, adding an extra dimension of playtime fun for youngsters.
An Enthralling Building Experience
This superb set features an easy-to-build TIE Fighter with an opening cockpit that has ample space for the TIE Fighter Pilot minifigure. Its Starter Brick lower frame and wings ensure a swift building process, paving the way for enthralling expeditions into the thrilling world of Star Wars: A New Hope.
Compatibility & Expansion
Previously branded as LEGO Juniors, LEGO® 4+ sets are compatible with all LEGO building toys, providing endless opportunities for creative play across various themes. The 75237 TIE Fighter Attack set can also be combined with the 75235 X-Wing Starfighter Trench Run and 75247 Rebel A-Wing Starfighter 4+ sets, for an even more immersive LEGO® Star Wars™ experience.
A Perfect Gift Idea
The TIE Fighter Attack set is an ideal LEGO® building brick present for preschoolers and young children. It doesn't just introduce your child to a vast universe filled with their favorite movie and TV characters; it also helps ignite their imagination and creativity while fostering confidence in their building abilities. Weighing 0.26Kg (0.57 lb) with dimensions of 26.2 x 14.1 x 6.1 cm (10.3 x 5.6 x 2.4 in), this amazing Star Wars-themed gift guarantees to delight kids as they embark on endless intergalactic adventures.