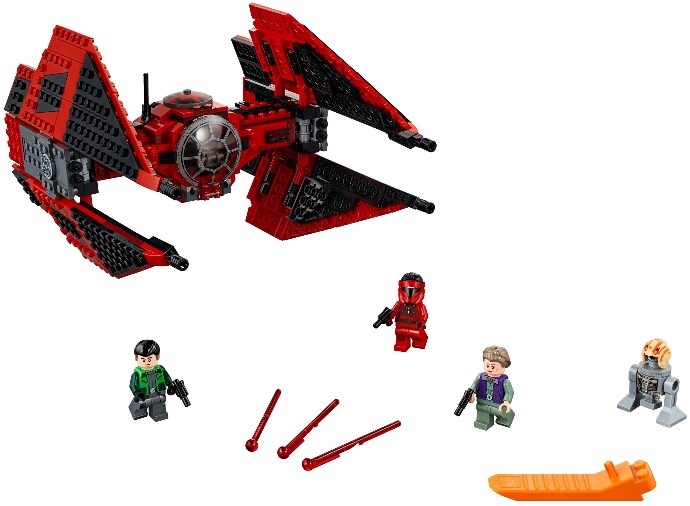 Explore the Star Wars Galaxy with Major Vonreg's TIE Fighter
Get ready to embark on exciting adventures in the Star Wars: Resistance universe with the fantastic LEGO® set – Major Vonreg's TIE Fighter (75240). This intricate and detailed model will provide countless hours of immersive play and exploration, making it an excellent addition to any Star Wars fan's collection. Launched in April 2019, this model was released as an ode to the fantastic Star Wars Resistance TV series. Let's find out more about what this incredible LEGO® set has to offer.
A Spacecraft Fit for a Villain
LEGO® Major Vonreg's TIE Fighter is a perfect representation of the villainous ace pilot's ship from the Star Wars Resistance TV series. With its sleek black and red color scheme, this starship construction toy is sure to stand out amongst your LEGO® collection. The model features a realistic opening cockpit where the Major Vonreg minifigure can comfortably sit while planning his next wicked move. Additionally, the ship is equipped with two powerful spring-loaded shooters that can be fired by simply moving the trigger left or right – a fantastic feature adding authenticity and engagement to your play.
Meet Your Galactic Heroes and Villains
This impressive LEGO® Star Wars™ set includes four highly-detailed minifigures, providing endless storytelling possibilities. The lineup consists of Major Vonreg himself, along with other significant characters from the popular TV series: Kaz Xiono, General Leia, and the adorable R1-J5 droid, also known as Bucket. These minifigures add depth and interaction to your imaginative space fighter missions, as you build allies or engage in epic battles against each other. A notable new-for-April-2019 detail is the addition of realistic elements like Major Vonreg's helmet, Kaz's hair element, and newly molded 4×6 left- and right-wing elements.
Recreate Iconic Scenes with the LEGO® Star Wars™ Major Vonreg's TIE Fighter
With this stunning 496-piece set, you can devise exhilarating scenes from the hit Star Wars Resistance TV series. The starship stands at over 6″ (16cm) high, 9″ (23cm) long, and 7″ (18cm) wide, sporting an intimidating size worthy of Major Vonreg's ruthless demeanor. Priced at £64.99 / $69.99 / 68.23€, it offers great value for the endless joy and excitement it brings.
Overall, LEGO® Star Wars™ 75240 Major Vonreg's TIE Fighter is a must-have for fans of both the legendary Star Wars saga and LEGO® enthusiasts alike. This magnificent model not only delivers a thrilling building experience but also serves as a perfect piece of memorabilia for the popular Resistance TV series. Don't miss out on owning this iconic piece of the Star Wars universe.