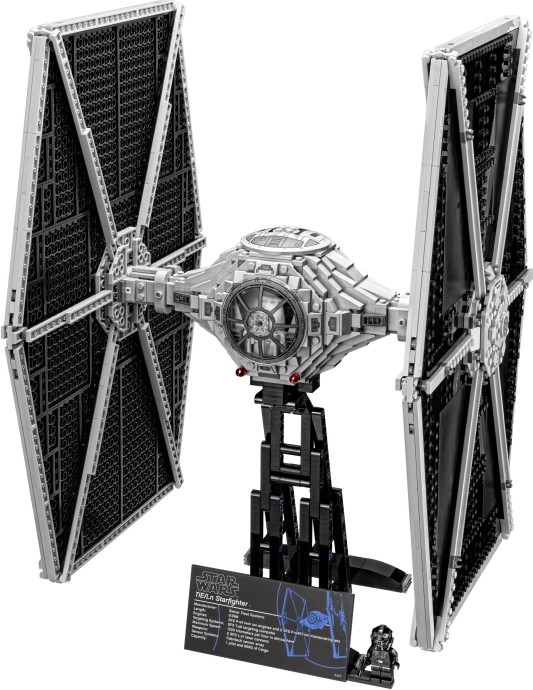 Discover the Epic LEGO Star Wars TIE Fighter Set
Engage in an out-of-this-world building experience with the astounding LEGO Star Wars 75095 TIE Fighter set. As part of the highly sought-after Ultimate Collector Series, this meticulously detailed model will make a stunning addition to your collection and bring the iconic Imperial starfighter to life. With 1,685 pieces to assemble, prepare for an immersive and thrilling challenge that will provide endless fun and satisfaction for every Star Wars fan aged 14 and above.
A Legendary Starfighter from the Star Wars Saga
This phenomenal TIE Fighter LEGO set is inspired by the spacecraft's numerous appearances in the enthralling Star Wars film series, most notably in Episode IV A New Hope, Episode V The Empire Strikes Back, Episode VI Return of the Jedi, and Rogue One: A Star Wars Story. As a crucial asset to the Imperials in many action-packed battle scenes, including the pivotal Death Star assault, this beloved starfighter has earned its place as a fan favorite and a timeless symbol of power and design in the sci-fi universe.
Exquisite Details and Authentic Features
Revel in the extraordinary attention to detail showcased by this large-scale LEGO rendition of the classic TIE Fighter. Measuring 18.5 inches high, 12 inches long, and 12.2 inches wide when fully assembled, this stunning model features intricate building elements that will enchant seasoned builders. From its iconic wing panels to its central cockpit sphere with an opening top hatch, every aspect of this legendary starfighter has been carefully crafted to ensure authenticity and realism.
An Exclusive Minifigure Pilot with Weaponry
Gather your forces as you take command of this imposing spacecraft with the included exclusive TIE Fighter Pilot minifigure. Armed with an impressive blaster pistol, this dedicated Imperial soldier is ready to protect your model from any possible Rebel threat and enhance the atmosphere of epic galactic battles that unfolds in your own living space.
A Must-Have Display Piece for LEGO and Star Wars Enthusiasts
Once you have completed the assembly of your magnificent TIE Fighter, proudly exhibit it on the accompanying display stand, which guarantees a secure and stunning presentation. With an informative fact plaque also included, you'll be able to stay up-to-date with all the essential statistics and information about this awe-inspiring starfighter. Boasting endless appeal for both LEGO lovers and Star Wars devotees, this Ultimate Collector Series TIE Fighter is an unparalleled addition to anyone's collection, embodying creativity, imagination, and cosmic grandeur.
Product Specs
Product Specs
Product Name:
TIE Fighter
Pieces
1685
RRP
£179.99 / $199.99 / 199.99€
Release Year
2015
Theme
Star Wars
Instructions
Lego TIE Fighter Instructions