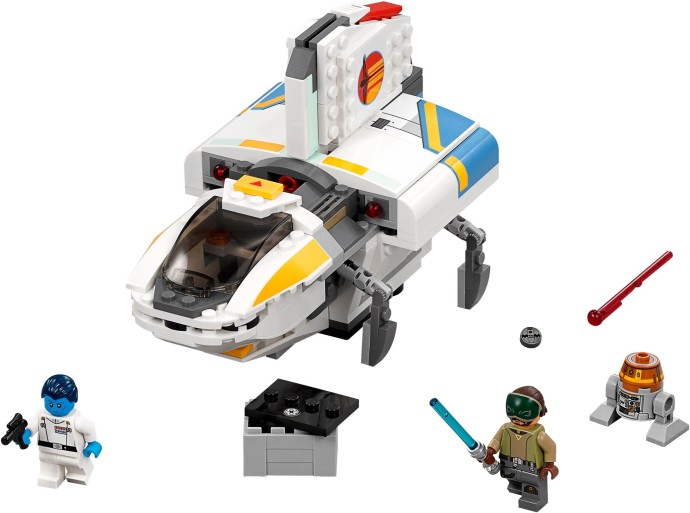 Explore the Galaxy with The Phantom LEGO Set
Embark on thrilling intergalactic missions with the LEGO Star Wars Set #75170, featuring The Phantom from the Star Wars Rebels TV series. A highly detailed starfighter that's ready for exciting adventures in your home, it will undoubtedly spark your creativity and immerse you in the captivating world of Star Wars. In this article, we will discuss what makes this set unique and worth adding to your collection.
Featuring an Iconic Starfighter
The centerpiece of this LEGO set is The Phantom itself – a remarkable starfighter that plays a crucial role in the Rebels' struggle against the Empire in the Star Wars universe. The level of detail in its design is impressive, boasting retracting landing gear, an opening minifigure cockpit that can detach during emergencies, and even dual spring-loaded shooters for some serious firepower. This fantastic vehicle is guaranteed to pique the interest of any true Star Wars fan.
A Wealth of Interactive Features
Besides its visually striking design, The Phantom LEGO set also comes with numerous interactive components that allow for an engaging and entertaining building experience. An opening rear compartment houses a storage box containing a detonator, while there's also space beside the cockpit for Kanan's friendly Astromech Droid, Chopper. These elements contribute to a versatile and immersive playtime that both kids and adults can enjoy.
Including Exclusive Minifigures
What would any LEGO set be without its iconic minifigures? This particular offering has three distinct characters, each bringing their unique charm and essence from the Star Wars Rebels series into your collection. Included are Kanan Jarrus, Admiral Thrawn, and Chopper. With these excellent inclusions, you have all you need to recreate some of your favorite episodes or create entirely new stories from scratch.
Designed for a Wide Range of Builders
The Phantom LEGO set is designed to be accessible and enjoyable for builders aged 7 to 12 years old. With 269 pieces, it offers just the right amount of challenge to be engaging without becoming overwhelming. Measuring over 4 inches high, 6 inches long, and 3 inches wide, The Phantom makes for an imposing display that you'll be proud to show off in your LEGO collection.
In Conclusion: A Must-Have for Star Wars Enthusiasts
The Phantom LEGO Set #75170 is a unique and captivating offering that captures the spirit of the Star Wars Rebels TV series. With its detailed design, interactive features, and beloved characters in minifigure form, this set promises hours of fun and creativity for fans of all ages. Join the Rebel Alliance today and build your very own starfighter to take on the Galactic Empire!