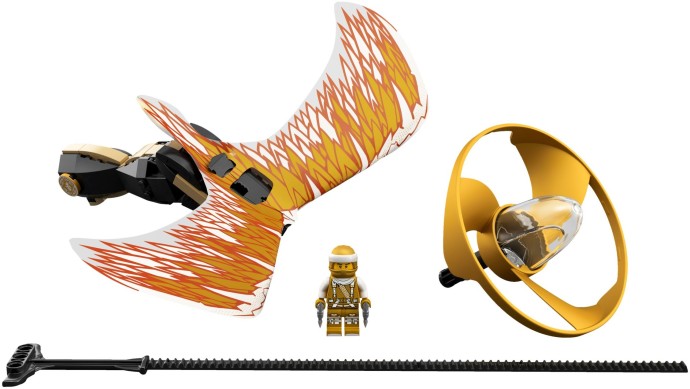 Experience the Thrill of the Skies with Golden Dragon Master
Become a champion of the mid-air martial arts with the 70644 Golden Dragon Master from LEGO's infamous Ninjago collection. This toy set exemplifies perfection with its blend of immersive build and engaging role-play experience. Released exclusively in 2018 under the subtheme Dragon Masters, it comes packed with numerous unique features that you simply cannot miss!
Interactive Gameplay Ensemble
This flyer boasts a rich lineup of components that are sure to keep any fan on their feet. Taking advantage of a cleverly built LEGO brick handle and a capsule designated for its original minifigure – The Golden Master, the set ensures an adventure-filled playtime. Alongside these, there's an attractive blade element that pairs seamlessly with gilded dragon wings. It wouldn't be wrong to say that every part of this creation breathes life into some good old ninja action.
Various Stunts and More!
Say goodbye to monotony because the 70644 Golden Dragon Master is here to uplift your gameplay! Ever thought about mastering The Dragon Strike or The Nosediving Dragon? Your dreams just came true! This intelligently designed toy introduces many exciting stunts, including The Dragon Flip and The Eye of The Dragon, among others. What's even better is, you can challenge your friends for captivating contests such as The Flight of the Dragon or The Dragon Duel.
Elevate Your Experience
Enhance your joyous moments further by using your surroundings to curate novel challenges. Aim for unimaginable heights or pinpoint accuracy; there's no limit to where your imagination can lead you! And for those seeking extended aerial ninja action, consider fortifying your collection with additional sets like 70645 Cole – Dragon Master, 70646 Jay – Dragon Master, 70647 Kai – Dragon Master and 70648 Zane – Dragon Master.
Dazzling Dimensions and Great Value
Finessed with dimensions reading an impressive 29.8 x 25.2 x 6.7cm when unbuilt, this 92-piece set belies its humble price point. It offered enormous entertainment value at launch for just £12.99 in the UK, $14.99 in the US and €14.99 across Europe which averages at around 14p/c per piece – definitely pocket-approved for our budding ninjas aged between 8-14 years.
In Conclusion…
Simply put, LEGO Ninjago's 70644 Golden Dragon Master not only lives up to but exceeds every fan's expectations making it a game-changer in the world of thematic toys.