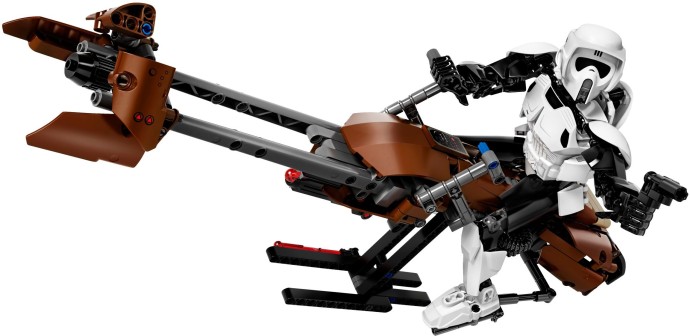 Discover the Excitement of LEGO Star Wars Scout Trooper & Speeder Bike
A world of adventure awaits you with the formidable Scout Trooper & Speeder Bike set from the LEGO Star Wars collection. Inspired by the iconic Star Wars: Episode VI Return of the Jedi movie, this set brings your favorite intergalactic escapades to life in remarkable detail. Featuring a buildable and highly posable Scout Trooper figure along with its signature speeder bike, this set is a must-have for fans of all ages.
An Intricate Scout Trooper Figure
The Scout Trooper character is meticulously crafted to capture every detail, making it an impressive addition to your LEGO collection. With pouch and bag detailing, a striking helmet, and a detachable leg-mounted blaster pistol, this figure is perfect for recreating your favorite Star Wars moments. The posability of it allows for endless exploration of different battle poses and scenes, ensuring that you'll never tire of playing with this incredible character.
Experience High-Speed Chases with the Buildable Speeder Bike
For the first time in LEGO history, this set also includes a buildable speeder bike that is sure to ignite your imagination. Complete with a spring-loaded shooter, handlebar, footrests for mounting the Scout Trooper, movable flaps, detailed panels, and a convenient handle underneath for enhanced play and display functionality, this speeder bike is truly one-of-a-kind.
The excitement doesn't stop there – swoop into action by grabbing the handle and experience exhilarating Endor chase scenes directly from the movie. No mission is too big or too small when you have the Scout Trooper & Speeder Bike set to assist you!
Durable Design for Intensive Play Sessions
This LEGO Star Wars set is constructed with exceptional durability in mind, ensuring it can withstand intense action play and remain looking fabulous for years to come. With extra ammo included, you'll never run out of firepower in the heat of battle. Whether you're racing through the forest moon of Endor or engaging in epic showdowns with your other LEGO Star Wars characters, this Scout Trooper & Speeder Bike set is ready for anything.
Perfect for Young and Experienced Builders Alike
With an age range of 10 – 14 and a total of 452 bricks to assemble, this set is an excellent opportunity for youngsters to enhance their problem-solving abilities and fine-tune their motor skills, all while enjoying the world of Star Wars. Seasoned LEGO builders will also appreciate the intricacy and attention to detail this set offers, making it a fantastic gift for fans of all ages.
Don't miss out on owning a piece of LEGO Star Wars history with this remarkable Scout Trooper & Speeder Bike set. Every mission you undertake is bound to be a thrilling adventure full of action, excitement, and the magic of the Star Wars universe.