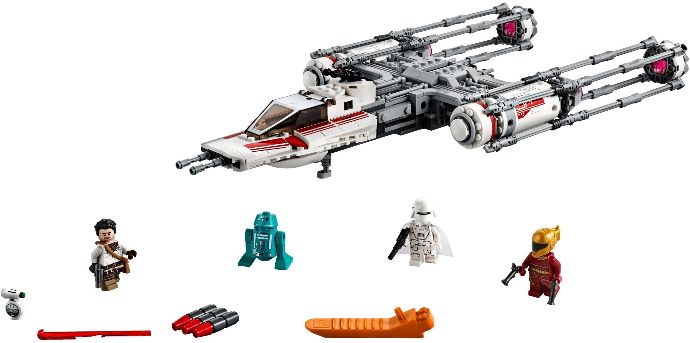 Discover the Exciting Resistance Y-wing Starfighter LEGO Set
Enter the enthralling world of Star Wars with the LEGO® Star Wars 75249 Resistance Y-Wing Starfighter set. With its phenomenal features and intricately designed characters, this exceptional playset is sure to delight both young fans and avid collectors alike.
New Color Scheme for The Rise of Skywalker
Be prepared to be amazed by a captivating new color scheme, which adds an exciting touch to the classic fighter-bomber model from the Star Wars: The Rise of Skywalker movie. Sporting an incredible design reminiscent of a wishbone, this captivating starship playset is a must-have for any fan's collection.
Action-Packed Playtime with Opening Cockpit and Spring-Loaded Shooters
The Resistance Y-wing Starfighter boasts impeccable detail, such as an opening cockpit that houses a minifigure and folding landing gear to simulate take-off and landing sequences. Equipped with powerful spring-loaded shooters and top-loaded bombs activated at the pull of a trigger, this starfighter unleashes intense action-packed playtime for kids eager to dive into iconic Star Wars scenes with their friends.
Five Unforgettable Minifigures
This sensational playset comes complete with five LEGO® Star Wars™ characters that fans will cherish, including minifigures Poe Dameron, Zorii Bliss, First Order Snowtrooper, as well as the endearing D-O and an astromech droid LEGO figures. These detailed figures ensure an immersive experience when recreating your favorite moments from the movie, or concocting brand-new adventures during playtime.
Incredible Weapons and New-for-October-2019 Details
Featuring an arsenal of striking weapons, such as Poe's blaster pistol, Zorii's dual blaster pistols, and the First Order Snowtrooper's own blaster, these minifigures are equipped to engage in captivating battles. Moreover, the Y-wing's color scheme and Zorii's uniquely molded helmet are new additions for October 2019 – elements that truly elevate this set to new heights.
Perfect Gift for Star Wars Enthusiasts
The LEGO® Star Wars 75249 Resistance Y-Wing Starfighter set makes for a fantastic gift on special occasions, be it a birthday, Christmas, or any other event that calls for celebration. With its exhilarating features and unmistakable love of the Star Wars universe packed into every piece, this set provides a rewarding building experience and endless hours of imaginative playtime.
Intriguing Dimensions that Capture the Essence of Star Wars
Measuring an impressive 2" (7cm) high, 16" (43cm) long, and 7" (19cm) wide, this Star Wars™ building set mirrors the essence of the iconic Y-Wing Starfighter in all its glory. Assemble the pieces to unveil a true masterpiece that will undoubtedly ignite the imagination of all who behold it.