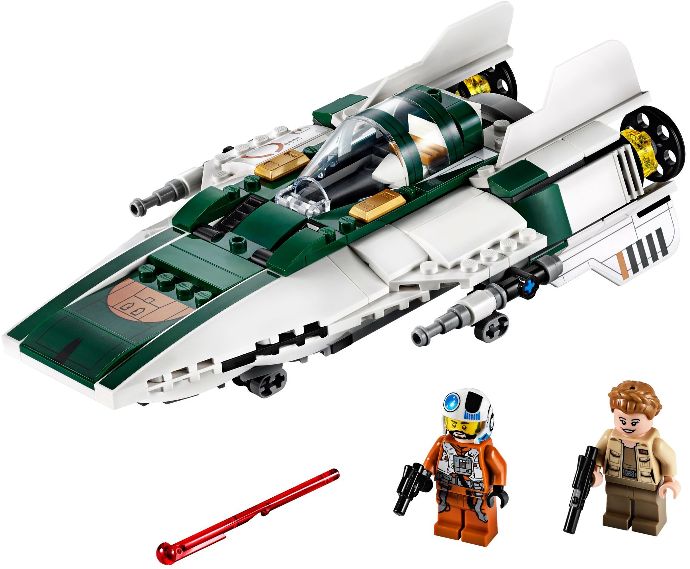 Discover the LEGO® Resistance A-Wing Starfighter
Fans of LEGO® and the Star Wars galaxy alike have much to look forward to with the 75248 Resistance A-wing Starfighter set. Inspired by the Star Wars: The Rise of Skywalker film, this engaging playset offers builders aged seven and above a challenging but rewarding experience in assembling this iconic fighter craft. With its fantastic design and features, it is a worthy addition to any LEGO® Star Wars enthusiast's collection.
Snap Wexley and Lieutenant Connix Minifigures
Excitement in outer space awaits alongside the Snap Wexley and Lieutenant Connix minifigures included with this set. Their presence adds another layer of fun and adventure as builders can bring their favorite film scenes to life or create their own imaginative storylines in the Star Wars universe. Each character also comes equipped with blasters for the high-stakes battles that lie ahead.
Intricate Design Elements to Delight Builders
This LEGO® Star Wars playset's detailed design mirrors that of the A-wing starfighter seen in the movies. Complete with an opening cockpit that houses the Snap Wexley minifigure, retractable landing gear, wingtip cannons, and two built-in spring-loaded shooters, this set provides many opportunities for builders to engage their creativity on their mission to defeat the Dark Side.
A Wonderful Gift for Any Occasion
The 75248 Resistance A-Wing Starfighter makes an excellent birthday, holiday, or surprise gift for children or adult collectors alike. This set is priced at £24.99 / $29.99 / 29.23€, making it an affordable option for those wishing to treat a loved one or themselves to this highly-coveted addition to their LEGO® Star Wars collection.
Final Product Dimensions and Structure
Once completed, the fully-assembled starship measures 2″ (7cm) high, 7″ (20cm) long, and 4″ (12cm) wide and contains a total of 269 pieces. The overall packaging dimensions are 26.2 x 19.1 x 7.2 cm (10.3 x 7.5 x 2.8 in), which is a perfect size for gifting or storage when not in use.
A New Adventure Awaits!
In conclusion, the LEGO® 75248 Resistance A-Wing Starfighter set delivers an enjoyable building experience combined with an authentic Star Wars feel that will appeal to both aspiring builders and seasoned collectors. With its interactive features and detailed design, it allows users to unleash their imagination and embark on thrilling space adventures like never before!