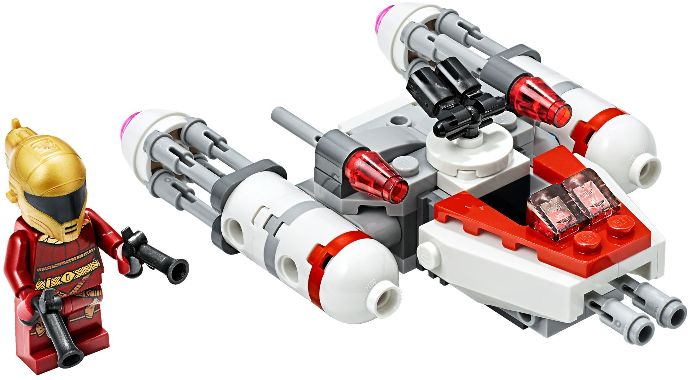 Discover the Amazing Resistance Y-Wing Microfighter
LEGO® sets have always been a popular choice among toy enthusiasts, and the Star Wars-themed creations are no exception. One build set that has captured the hearts of both children and adult collectors is the LEGO® Star Wars™ Resistance Y-wing Microfighter (75263). The top-notch design of this iconic starship offers a fun and engaging experience for builders, while the fantastic play value makes it a must-have item for any Star Wars lover.
Outstanding Design Features
The Resistance Y-wing Microfighter offers an inspiring design with its sleek red and white color scheme, which is brand new as of January 2020. With 86 pieces, this LEGO® set is perfect for children aged 6 and above since it is easy to put together. Moreover, the model is quite compact and measures just 14.1 x 12.2 x 4.6 cm, making it easy to carry around in a backpack.
Fierce Battle Action Ready
This Star Wars microfighter is designed to provide loads of action-packed adventures to its users. The Y-wing fighter comes equipped with flick missiles, a rotating gun turret, and non-firing guns that create an interactive experience for kids during playtime. Plus, the set features an adorable Zorii Bliss minifigure to role-play as one of the heroic Resistance pilots.
Innovative Building Experience
Builders can use Instructions PLUS, available on the free LEGO Life app, to get an exciting and interactive way to assemble their Resistance Y-wing Microfighter set digitally. The zoom and rotate viewing tools enhance the building experience and give even rookie builders a sense of independence while developing Jedi-level awesomeness!
Collectible Value and Compatibility
As part of the LEGO Star Wars universe since 1999, the Resistance Y-Wing Microfighter is compatible with other sets within the range. This compatibility encourages kids to play creatively and combine their Star Wars sets to create even more extensive battle scenes. Furthermore, this microfighter makes a fantastic collectible item for adult fans, adding to the overall charm of the LEGO Star Wars sets.
High-Quality Standards Ensured
You can always expect the best from LEGO® products, as they have met high industry standards since 1958. These blocks are robust, easy to connect, and pull apart without exerting too much force. Additionally, extra efforts are taken, such as drop tests, crush tests, twist tests, and more, to ensure that every LEGO® set meets top safety standards in both Earth and galaxies far, far away!
Take Home the Resistance Y-Wing Microfighter Today
If you are looking for an easy-to-build yet thrilling LEGO® Star Wars™ set for yourself or your little one, this Resistance Y-wing Microfighter (75263) is an excellent choice. With its phenomenal design elements and intense play value features, you can't go wrong with this particular addition to your collection or as a thoughtful surprise gift for any occasion.