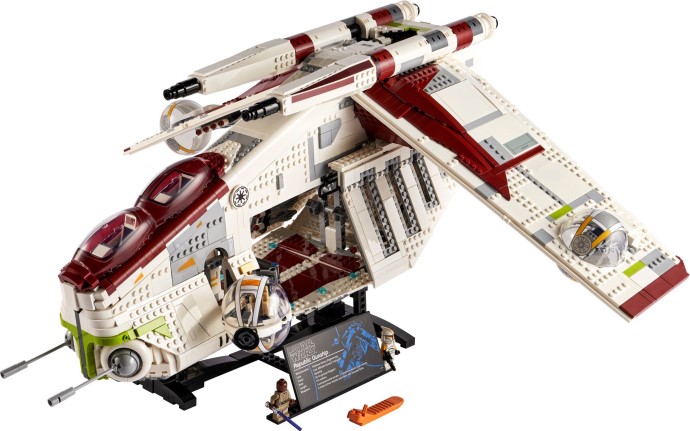 Revive the Memories of Star Wars with the Republic Gunship
Find yourself immersed in the exciting world of Star Wars and relive the epic Battle of Geonosis through the mesmerizing Ultimate Collector Series model of the Republic Gunship that will leave you thrilled. Hans Burkhard Schlömer has crafted each component with intricate details and stunning designs that will take you into a different dimension, leaving you awe-struck. Let's check out what this vintage collection has to offer.
Voted for by Lego Fans
The universally admired LEGO® fans have voted Republic Gunship as their top choice for inclusion in Ultimate Collector Series models. Gain a sense of belonging as you indulge yourself into this mesmerizing model, experiencing detailed authenticity that is pure joy to build over time. With 3292 pieces, this model is quite complex to build but worth every effort and resembles a perfect addition to any collection.
The Authenticity Life-like Features
The low altitude transport vehicle features four dish turrets, super-long wings, interior detailings, two spaces for minifigures- Clone Trooper Commander and Mace Windu. The ship boasts two cannons on top with a swing-out effect, opening sides, and a rear hatch that allows interiors to open for inspection- perfect for photography enthusiasts who want to capture their creations.
Experience the Building Challenge
With step-by-step instructions at your disposal, embark on an impressive building mission now. For first-time builders out there, the challenge may seem daunting at first. But don't worry; you won't have any trouble completing it. The set's accurate illustrations and features make it a pleasant experience, catering to skilled builders alike.
A Perfect Gift for Enthusiasts
This premium-quality Republic Gunship makes the perfect addition to any fan's collection. The finished model is highly appealing and offers an immersive, rewarding experience, making itself one of the best birthday or holiday gift choices for Star Wars enthusiasts or passionate LEGO fans out there.
Specification and Dimension
The Republic Gunship has an actual dimension of 58.2cm by 48cm by 17cm (22.9in x 18.9in x6.7in) once completed, including the stand.
This classic model is targeted towards individuals aged 18+.
The Republic Gunship set number is 75309 and was launched on August 1st, 2021. However, it still awaits its final release date.
Pricing and Availability
Our ultimate collector series of Republic Gunship boasts a fantastic purchasing price of £344.99 / $399.99 / €399.99, with a price per piece ratio of 10.5p / 12.2c/12.2c, making it cost-effective for avid fans to access a model complementing their collection genuinely.
Hurricane models have proven themselves to be leaders in producing superior quality models in recent years- true for this brand new Republic Gunship model that meets stringent industry criteria for utmost durability and stability- further adding to packing its exciting features into the challenging build.
Get set ready, build with us! Purchase your ultimate collectable premium-quality Republic Gunship now!