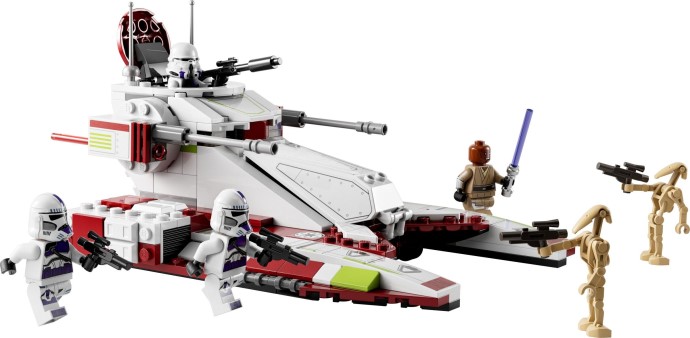 Embark on Intergalactic Battles with the Republic Fighter Tank – SET_NAME
The Star Wars universe is filled with iconic starships, vehicles, characters, and locations. There's nothing better than recreating these moments with LEGO sets, and one such set that has caught our attention is the 75342 Republic Fighter Tank. A must-have for every Star Wars fan, this LEGO set promises hours of fun and creativity. Designed by Henrik Andersen and scheduled for a 2022 release, let us dive into the world of intergalactic battles with this action-packed buildable.
A Glimpse into the Clone Wars
The Republic Fighter Tank set transports you to a world filled with thrilling clashes between Mace Windu's 187th Legion Clone Troopers and the Battle Droids. Boasting 262 exquisitely crafted pieces, this exceptional build enables its proud builder to relive the adventures of Star Wars: The Clone Wars in all their glory. And with six minifigures included in the set – Mace Windu with a lightsaber, new-for-May-2022 versions of the 187th Legion Clone Commander and Troopers, and two Battle Droids equipped with cool weapons – things are about to get really exciting!
Innovative and Playful Design
Beyond its authentic-looking design, the LEGO Republic Fighter Tank also features hidden wheels that create a hover effect as if defying gravity itself! Additionally, it comes with two elevating spring-loaded shooters for immersive action play, as well as a lookout for the Clone Commander atop the tank – making it an irresistible and adventurous playtime companion.
An Ideal Gift for Every Star Wars Fan
If you're searching for a stellar gift for that Star Wars enthusiast in your life, look no further. The Republic Fighter Tank set is suitable for kids aged 7+ – making it a versatile choice for birthdays, holidays, or just as a surprise treat. Better still, the set comes with step-by-step instructions that ensure even a newcomer LEGO builder can join in on the fun without any hassle.
To Infinity and Beyond – Your Galactic Collectibles
LEGO Star Wars sets have become a global phenomenon, with a wide variety of models that excite fans of all ages. The Republic Fighter Tank set is a fantastic addition to your intergalactic collection and offers countless opportunities to role-play creative stories, relive iconic scenes or simply display the TX-130 Saber-class fighter tank model, which measures over 4 in. (10 cm) high, 8 in. (20 cm) long and 6 in. (16 cm) wide.
Quality and Safety – A LEGO Tradition
As with all LEGO sets, quality and safety are at the forefront of their creations. The Republic Fighter Tank follows suit, with each component meticulously tested and analyzed to comply with rigorous global safety standards – promising builders a durable yet captivating experience.
In conclusion, the 75342 Republic Fighter Tank LEGO set is primed to fuel your imagination. It's time to embark on an interstellar adventure that transcends both time and space – one brick at a time.