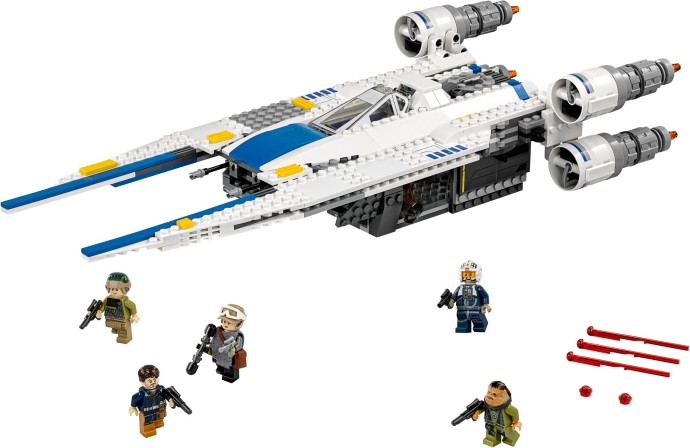 Explore the Unique Rebel U-wing Fighter LEGO Set
Welcome to the world of Star Wars LEGO sets, featuring the eye-catching SET_NAME. This set is a must-have for any avid Star Wars fan or LEGO enthusiast. Let's dive into the details and features of this exceptional set from the Rogue One subtheme.
Set Overview
The Rebel U-wing Fighter was introduced in 2016 as part of the Star Wars Rogue One subtheme. It boasts an impressive 659 pieces, making it an engaging build for children and adults aged between 8 and 14 years old. The set's dimensions measure at 54 x 28.2 x 5.9 cm (21.3 x 11.1 x 2.3 in) and has a weight of approximately 1.2Kg (2.65 lb).
Striking Features and Design
Prepare to be amazed by the intricate details and realistic design of the Rebel U-wing Fighter LEGO model. Featuring four large engines, the fighter is built to impress with its dynamic wings that sweep back to create an even larger model when opened
It doesn't stop there! This set comes with numerous other features, such as:
An opening minifigure cockpit complete with transparent lower observation window for maximum visibility during galactic battles
Opening side doors equipped with pull-out stud shooters for extra playtime excitement
Dual spring-loaded shooters located at the front to engage in battles
A storage hold at the rear for additional weapons or supplies
Included Minifigures
The Rebel U-wing Fighter comes packed with five unique minifigures, ensuring hours of imaginative play and adding life to your LEGO Star Wars universe. The set includes:
A U-Wing pilot at the helm of the fighter
Bistan, the brave warrior who helps lead the Rebellion
Jyn Erso, one of the most celebrated protagonists
Cassian Andor, a dedicated Rebel intelligence officer
A reliable and courageous Rebel Trooper to round out the crew
Price and Value
The Rebel U-wing Fighter had an initial recommended retail price of £74.99 / $79.99 / 79.99€ upon its release. The price per piece works out to be 11.4p / 12.1c / 12.1c, making this set a great value for any LEGO Star Wars collector.
Compatibility and Creativity
As with all other LEGO sets, the Rebel U-wing Fighter is fully compatible with other LEGO building toys, enabling endless possibilities for creative construction and combinations. Expand your universe by combining this stunning set with others from the vast collection of Star Wars LEGO sets.
Final Thoughts
The Rebel U-wing Fighter is an essential addition to any Star Wars fan's collection, offering an engaging build experience and alluring features for hours of entertainment. Whether you are a long-time collector or just beginning your journey into the world of LEGO Star Wars, this set is sure to captivate and inspire your imagination.