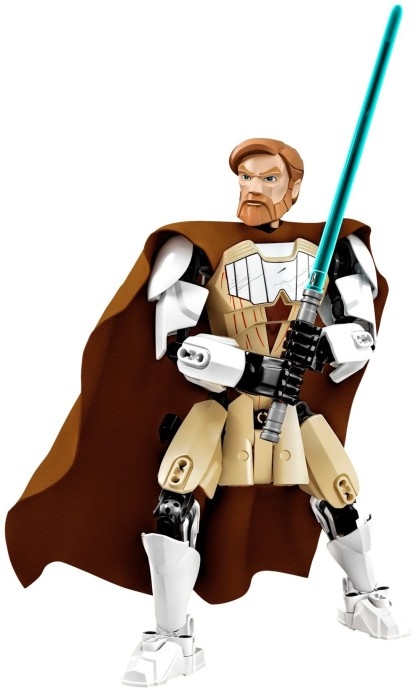 Discover the Power of the Force with Obi-Wan Kenobi Set!
Unleash your inner Jedi and recreate epic battles from a galaxy far, far away with the 75109 Obi-Wan Kenobi LEGO® Star Wars Buildable Figure set. Featuring a highly detailed and fully posable build, this set allows you to command the Clone Army against the Separatists as one of the most legendary Jedi Masters in the Star Wars universe.
A Collector's Dream: Star Wars Buildable Figures Subtheme
Released in 2015 under the umbrella of the Star Wars theme, this Obi-Wan Kenobi buildable figure is part of the fan-favorite Buildable Figures subtheme. Launched on September 4th, 2015 and discontinued on December 31st, 2016, this product is sought-after by collectors and fans alike for its unique take on iconic characters.
Stunning Detail and Posability
The set includes an impressive 83 pieces to assemble the legendary Jedi Master, Obi-Wan Kenobi. Standing over 9″ (25 cm) tall when completed, this model boasts fully posable limbs that offer unlimited possibilities for engaging play and display. The special white Clone armor adds a touch of authenticity to the figure while adhering to the character's design from Star Wars Episode III: Revenge of the Sith.
Lightsabers Ready for Action
The Obi-Wan Kenobi buildable figure comes equipped with a buildable blue Lightsaber, complete with its own holster and an extra Lightsaber handle. Delve into intense lightsaber duels and wield the power of the Force against villainous foes like General Grievous (sold separately as set number 75112).
Age-appropriate Adventure
Designed for ages 7 to 12, this LEGO® set offers age-appropriate building challenges while still capturing the imagination of older fans. The sturdy, durable design allows the figure to withstand intense action play, making it perfect for younger Star Wars enthusiasts.
One with the Force: Price and Availability
Originally retailing at £19.99 / $24.99 / 24.99€, the 75109 Obi-Wan Kenobi Buildable Figure Set is moderately priced considering its playability and collectible value. Since its launch exit, the set has become more difficult to find; however, determined collectors can still track down this gem in various online stores or secondhand markets.
Conclusion
In conclusion, the LEGO® Star Wars Obi-Wan Kenobi Buildable Figure is an excellent addition to any fan's collection. Its fantastic posability and attention to detail ensure hours of exciting play as you recreate iconic battles or invent new adventures in a galaxy far, far away.