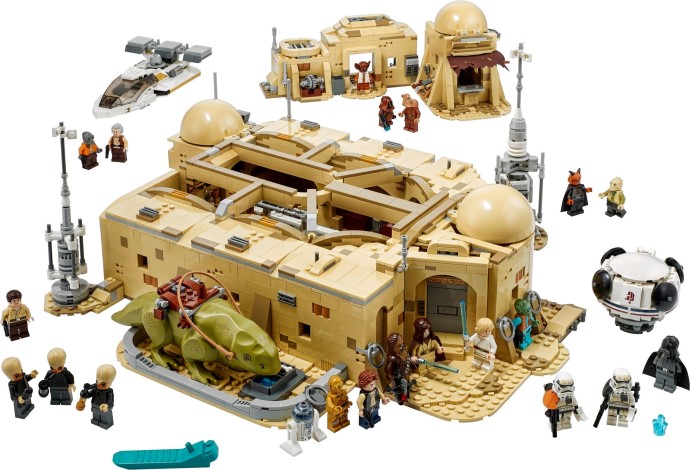 Discover the LEGO Star Wars Mos Eisley Cantina Set
Released in 2020, the LEGO® Star Wars™ Mos Eisley Cantina (75290) is a premium building set designed for adult fans of the iconic Star Wars saga. Part of the Master Builder Series, this intricate cantina model will delight dedicated collectors and make a great addition to any LEGO collection or Star Wars display.
Experience Authentic Tatooine Moments
Dive into the famous scene from Star Wars: A New Hope where Luke Skywalker, Han Solo and Obi-Wan Kenobi begin their unforgettable adventures together. The Mos Eisley Cantina boasts intricate details and numerous authentic features to captivate fans of all ages. With over 3,187 pieces, 21 minifigures, and attachable buildings, you can recreate your very own Mos Eisley cityscape.
Iconic Minifigures to Complete Your Collection
This exceptional set includes an impressive lineup of 21 LEGO minifigures such as classic heroes like Luke Skywalker, Han Solo, and Chewbacca. Alongside them are new-for-October-2020 additions Ponda Baba, Garindan, and Labria. Complete your Tatooine scene with R2-D2 and the Dewback figure for a touch of desert atmosphere.
An Immersive and Hands-On Building Experience
The detailed building instructions included with the LEGO Mos Eisley Cantina provide an enjoyable step-by-step guide for both seasoned builders and newcomers alike. As part of LEGO's unwavering commitment to quality, their bricks have met top industry standards since 1958, ensuring a seamless building experience without the need for Jedi powers.
A Thoughtful Gift for Any Star Wars Enthusiast
Whether you're treating yourself or searching for the perfect present for a loved one, this deluxe Master Builder Series set is an excellent choice. At £344.99 / $399.99 / 399.99€ and suitable for ages 18 and up, the Mos Eisley Cantina offers a challenging build and the chance to indulge in some cherished nostalgia. The completed set measures an impressive 58.2 x 48 x 12.4 cm (22.9 x 18.9 x 4.9 in), making it a fantastic centrepiece for any Star Wars display.
A Collectible Piece of the Star Wars Universe
The LEGO Star Wars Mos Eisley Cantina (75290) promises countless hours of immersive building, playtime possibilities, and endless enjoyment for collectors of all ages. With its captivating details and iconic minifigures, this remarkable set brings the spirited atmosphere of Tatooine's most famous cantina right into your home.