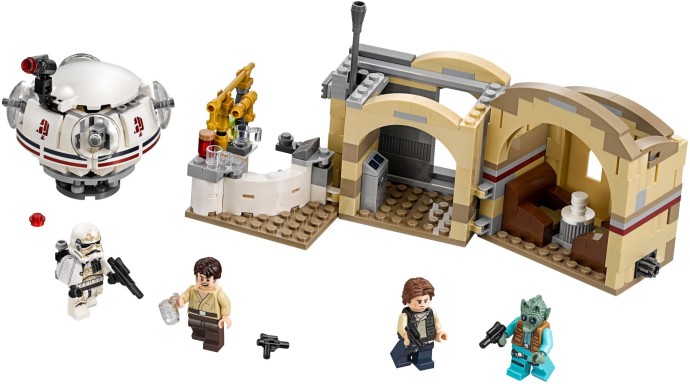 Step into the Mos Eisley Cantina LEGO Set
Embark on an intergalactic adventure with the LEGO Star Wars 75205 Mos Eisley Cantina set. This iconic scene from Star Wars: Episode IV is a must-have for any fan to create their own Tatooine experience. Players will love exploring Chalmun's Cantina, a detailed model with a modular design, perfect for easy play and authentic reenactment of some of the movie's most perilous moments.
A Trip to Tatooine's Most Dangerous Tavern
Get ready to recreate your favorite scenes from A New Hope as you build the Mos Eisley Cantina, featuring a detailed interior complete with refreshments counter and seat-tipping functions. Witness the unforgettable encounter between Han Solo and bounty hunter Greedo, or imagine your own daring escapades in this notorious cantina. The sliding entrance door adds an extra layer of excitement as players bustle in and out of the establishment.
Take Flight in the Ubrikkian 9000 Pod
No adventure would be complete without a speedy getaway vehicle. This set comes with an all-new-for-January-2018 Ubrikkian 9000 pod, which boasts an opening minifigure cockpit and top-mounted stud shooter. Get ready to soar across the sands of Tatooine and face whatever challenges await!
Minifigures Galore
The Mos Eisley Cantina LEGO set includes four minifigures: Han Solo, Greedo, Wuher (the cantina bartender), and a Sandtrooper. Equip these characters with their weapons—two blaster pistols and a blaster—to ensure victory in your own Star Wars tales.
Relive Classic Scenes or Create Your Own
Open up the LEGO Mos Eisley Cantina to play out beloved Star Wars: A New Hope tavern scenes, or let your imagination run wild with your own stories. The cantina measures over 3 inches (10cm) high, 8 inches (22cm) wide, and 3 inches (9cm) deep, while the Ubrikkian 9000 pod measures over 3 inches (9cm) high, 2 inches (7cm) long, and 2 inches (7cm) wide. With this versatile and detailed set, the possibilities are truly endless.
Summary
The LEGO Star Wars 75205 Mos Eisley Cantina set offers hours of adventure and excitement for fans aged 8-14 years old. Priced at £44.99 / $39.99 / 49.99€, this fantastic addition to your Lego collection will bring a galaxy far, far away right to your fingertips.