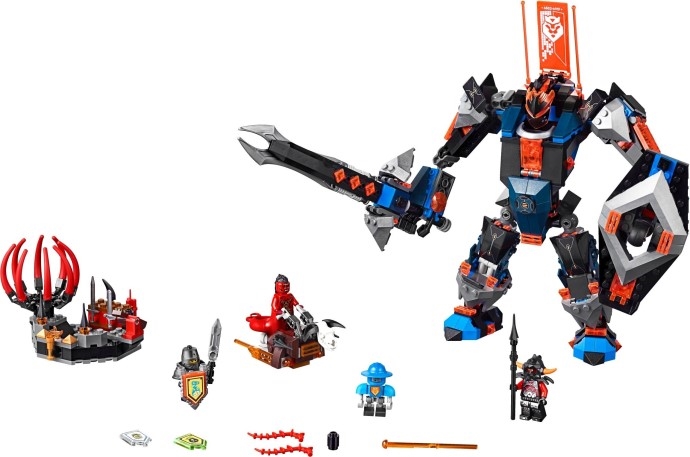 The Intense Adventure of the 70326 The Black Knight Mech
Immerse yourself in endless adventures with the 70326 The Black Knight Mech, inspired by the Nexo Knights Season 2 theme. This brilliantly crafted set, released in 2016, offers an extraordinary concoction of action-packed excitement and creative imagination. It was thoughtfully designed by Mark Stafford, bringing electrifying battles between good and evil to life.
A Step into the Nexo Knight World
Turning back time to its launch in June 2016, this fascinating LEGO set masterfully captures the fierce confrontations of Robin Underwood against Whiparella and the Ash Attacker. At the heart of this battle is the highly posable Black Knight Mech, armored with a sword and a shield armed with an arrow shooter. This truly reflects a warrior's resilience in the face of adversity.
Whiparella's Skeletonic Lava Fly Surprise
Not to be overlooked is Whiparella's skeletal Lava Fly that is not only terrifying but also fully equipped with dual spring-loaded shooters! In tandem with her lair that comes complete with a prison that has movable bars, a catapult, and a weapons holder, tension-filled battles are inevitable.
Minifigures and More
Apart from the primary characters – Robin Underwood and Whiparella – there are additional minifigures included in this set: a King's Bot and a Flame Thrower. To top it off, the thrill intensifies as you get 3 scannable shields, enabling you to power up for the impending LEGO NEXO KNIGHTS game!
Accessibility & Ease Of Use
Whether you're just getting started or already deep into LEGO building, this meticulously crafted set caters to kids and teenagers aged between 8 and 14 years old. With its age-suitable feature making it even more appealing, parents can trust this set for their children's growth both in creative thinking and fine motor skills.
A Starter Guide for Assembling
To begin constructing your battlefield, assemble The Black Knight Mech along with its cockpit and buildable sword and shield. Then strategize your move to shoot The Black Knight Mech's shield's arrow shooter by simply pulling the trigger. Next is opening up the claw-like bars of Whiperella's prison to place the King's Bot inside as captive. Just don't forget about arming yourself with Robin's sword or the Flame Thrower's spear!
Round-off & Dimensions
The 70326 The Black Knight Mech stands tall at over 12" (31cm), with Whiparella's Lava Fly measuring 1" (4cm) high, 3" (10cm) long, and 1" (4cm) wide. Meanwhile, her closely guarded prison measures more than 3" (8cm) high, about 9cm long, and approximately 11cm wide. This LEGO model from Nexo Knights offers far more than just pieces of plastic – it presents countless imaginative journeys fit for any valiant knight!