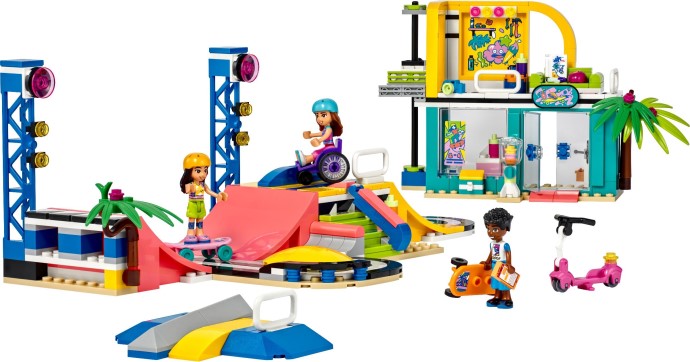 The Thrill of the LEGO Friends Skate Park Set
Find your inner Tony Hawk and immerse yourself in the exciting world of skateboarding with the LEGO® Friends Skate Park set (41751). Perfect for kids aged 6+ who are keen on outdoor sports. This set serves a captivating combination of fun, creativity, and friendship in one beautifully designed package.
Enter a New World of Adventure
Unleashing children's imagination is crucial for their cognitive development, and what better way to do it than with LEGO®'s reputable quality and creative toy designs. With the LEGO® Friends Skate Park, budding adventurers can dive straight into Heartlake City's bustling skate world. And as they jump, flip, and grind with the mini-dolls Liann, Zac, and Luna, children can learn to test their limits and pursue new challenges courageously. They will enjoy articulating spectacular tricks on sleek ramps and rails, before taking an imaginative break at the fun park building.
More Than Just a Playset
The LEGO® Friends Skate Park isn't merely a toy but a vehicle for children's whimsical narratives. Crafted to stimulate young minds, this set features an elaborate park building complete with an elevator to accessibility. Here, kids can fix pretend wheels at the workshop or take their mini-dolls to relax at the chill-out area after an exhilarating skate session. The set further enhances storytelling by incorporating in-line skates, a skateboard, a scooter, Luna's wheelchair, helmets for each character, and even a delightful gumball machine into its design.
The Perfect Gift for Little Skate Enthusiasts
If your child is passionate about skateboarding or outdoor sports in general, then look no further! Gift them this noteworthy LEGO® Friends Skate Park set which transforms into a fantastic adventure playground once assembled. As birthday or holiday presents go – or indeed any-other-day gifts – this unique toy ticks all the boxes. It promises hours of imaginative play and encourages children aged six and above to build their very own Heartlake City Skate Park.
Introducing the Newly Expanded LEGO Builder App
Aiding young builders in their innovative journey is the intuitive LEGO Builder app. Through easy-to-follow instructions presented in 3D models that can be zoomed in and rotated as needed; this function makes building even easier! What's more exciting is that it allows children to track their progress while fostering newly acquired skills – helping shape a new generation of LEGO builders.
Quality Backed by Tradition
Released in January 2023 alongside other exciting sets, the LEGO® Friends Skate Park carries on the tradition of LEGO's high-quality products. Every piece has been molded to comply with strict industry standards ensuring ease of assembly since 1958. Additionally, these bricks undergo rigorous tests including dropping, heating, crushing twisting just to meet global safety benchmarks—indicating LEGO's commitment not just to fun but also to safety!
Product Specs
Product Specs
Product Name:
Skate Park
Pieces
431
RRP
£44.99 / $49.99 / 49.99€
Release Year
2023
Theme
Friends
Instructions
Lego Skate Park Instructions