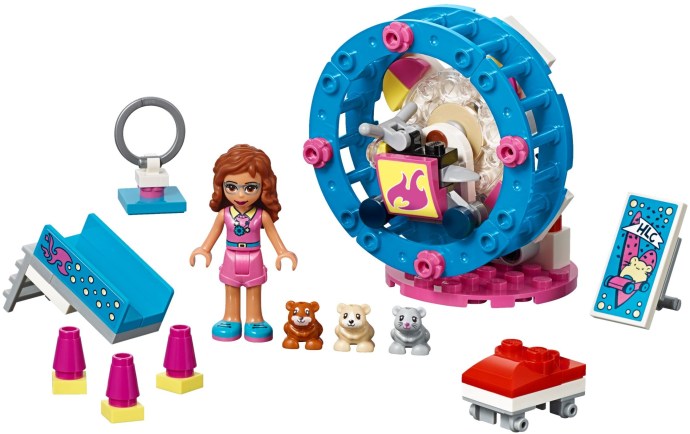 Exploring Fun with Olivia's Hamster Playground LEGO® Set
Among the numerous exciting LEGO® sets that have been launched over the years, one worth highlighting is the SET_NAME. This fascinating playset, targeted at children aged 6 years and above, came into the market on 01 Jan 2019 and retired on 31 Jul 2020. The set comprises unique features, accessories and minifigures that offer children an opportunity to immerse in creative journeys. This article takes you through a brief into this extraordinary playset.
Dive into the Pet Adventure with LEGO® Friends Theme
Belonging to the well-renowned LEGO® Friends theme under the Pets subtheme, Olivia's Hamster Playground is not simply another addition to your child's collection of toys but an entry point into a world of imagination and adventure. This captivating set was meticulously curated under the intricate scrutiny of designer Antica Bracanov.
Highlights of Olivia's Hamster Playground Set
The heart and soul of this playful ensemble reside primarily within its 81 carefully crafted pieces which come together to form an interactive hamster playground. The foremost highlight in this collection is a cunningly designed hamster wheel with a spinning function that captures the interest immediately.
But wait, it doesn't stop here! Adding an extra sprinkle of fun is a mini hamster motorcycle that can be fitted right at the front end of the wheel. Imagine seeing Harry, one of our adorably small hamster minifigs, appear as though he's cruising his motorbike round and round on the wheel! Now, that's a joyous sight for everyone.
Your Own Mini Performance Show
No performance should go unseen! Fortunately, the circular base of this escapade-filled playground can be seamlessly attached to the stage of another exciting LEGO set – Andrea's Talent Show (41368). Together they can lead you to host an amazing pet show for your friends!
Explore More with Additional Accessories & Elements
There's plenty more to uncover in Olivia's Hamster Playground than what meets the eye initially. It extends its playfulness beyond just a spinning hamster wheel. We have interesting elements such as an engaging slalom skate zone, an electrifying ramp for our little rodent pals, and even a challenging hoop. Children will absolutely relish leading their minifigure pals through these adventurous routes throughout game time.
An Enriching Play Experience Combined with Learning
This playground pack comes with one LEGO® Friends Olivia mini-doll figure along with three delightful hamster figures named Harry, Molly, and Rumble. Whether it's guiding them through slalom or amazing your imaginary audience by making these adorable pets perform on their mini vehicles – each activity contributes to enhancing creativity and imaginative skills among young ones. With such creatively designed sets like these from LEGO®, building continues to be audaciously fun and learning seems unceasingly enjoyable.