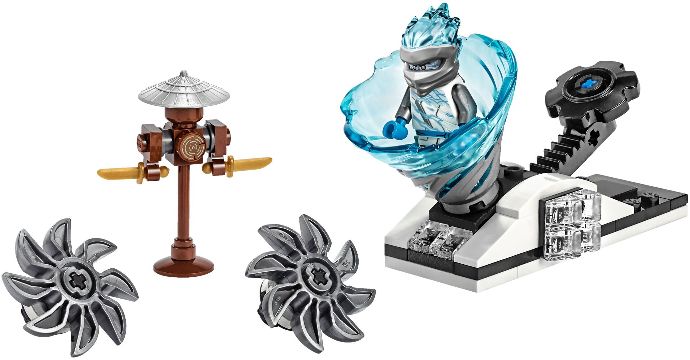 Roll into Battle with LEGO® NINJAGO® 70683 Spinjitzu Slam – Zane
Brace yourselves, young ninjas! With the release of LEGO's remarkable Ninjago 70683 Spinjitzu Slam – Zane set, fans of the NINJAGO series are in for a whirlwind of exciting, imaginative play. Released on June 2019 and retired a year later on July 2020, this thrilling building toy left its mark as a beloved addition to LEGO's Ninjago theme, allowing fans to stimulate creativity while having hours of exciting play.
Exciting Design and Incredible Specifications
A perfect blend of simplicity and fun, the 70683 set has been designed thoughtfully, charming NINJAGO fans with its engaging features and unique design. Featuring an easy-to-build spinner launcher and a nifty Zane Tornado Spinner, the set also comes with two launchable shurikens and an amusing buildable training dummy. Compact yet detailed with 63 pieces in total, thе sеt еxtrаcts mаximum fun оut оf а minimal аmоunt оf briсks.
The set serves affordability without compromising its entertainment value, priced at £8.99 / $9.99 / 9.99€ with a price per piece being approximately 14.3p / 15.9c / 15.9c. Specially designed for children aged seven years and up, kids will love spinning their characters around while taking on multiple ninja challenges alone or competitively.
Create Your Own Ninja Tornado Effect!
Basing its inspiration from the captivating NINJAGO TV show, this remarkable toy set has been created to bring all the magnetic ninja action straight into your homes! The awe-inspiring tornado effects as seen in the show can be relived by attaching the minifigure or shuriken to the launcher and sending them spiraling towards their target.
Engage in Role-play with Exclusive Minifigures
The Spinjitzu Slam – Zane is posed to fuel amazing adventures with its new-for-June-2019 Zane FS minifigure that showcases a 'powered-up' hood element for immersive role-plays. Your little ones would love to engage themselves in various scenarios and create different stories revolving around their favorite ninja character.
Expand Your Battles With Additional Sets
To dial up the action even further, this creative toy can be paired with other sets like 70681 Spinjitzu Slam – Lloyd, 70682 Spinjitzu Slam – Jay and 70684 Spinjitzu Slam – Kai vs Samurai. By bringing all these fiery spinning tops together, kids can arrange their own thrilling Spinjitzu Slam showdowns that test their accuracy and timing!
This superbly engaging LEGO set makes an excellent gift selection for any NINJAGO fan celebrating a birthday or other special occasions—it's sure to bring delight to everyone who loves it!