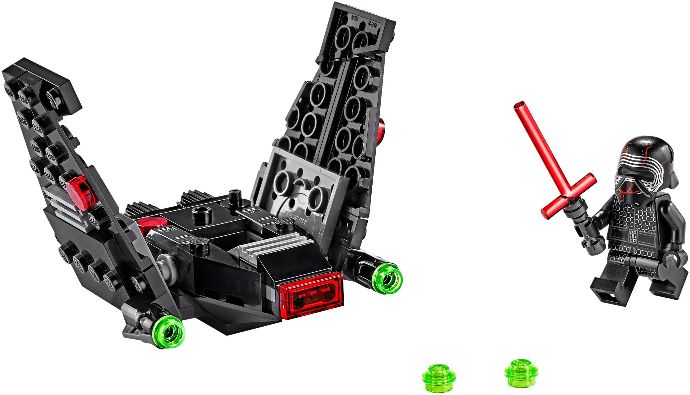 Discover the Excitement of Kylo Ren's Shuttle Microfighter
Step into the thrilling world of Star Wars with the LEGO Kylo Ren's Shuttle Microfighter (75264). This captivating set features a stunning and intricate representation of the iconic vessel, allowing young fans to experience unforgettable adventures in a galaxy far, far away. Inspired by Star Wars: The Rise of Skywalker, this quick-build shuttle with foldable wings and stud-shooters offers endless action for young space travelers.
Experience Ultimate Battle Action with Kylo Ren
Suitable for children aged 6+, this engaging set includes a detailed Kylo Ren minifigure wielding a fierce Lightsaber, perfect for role-playing adventures. With battle-ready wings that can be adjusted for flight or landing modes, kids will enjoy taking on the mighty role of the villainous character. In addition, the set includes a new-for-January-2020 helmet boasting a cracked decoration that adds to its allure.
An Interactive Building Experience
LEGO offers an interactive building experience through Instructions PLUS via the LEGO Life App. This feature enables even younger builders to construct their very own Star Wars Upsilon-class shuttle independently, offering intuitive zoom, rotation, and ghost modes that guide them through the process. Expanding their creativity, this immersive building set combines well with other LEGO Star Wars sets for even more galactic fun!
A Perfect Gift for Young Enthusiasts
With 72 pieces in total, the Kylo Ren's Shuttle Microfighter makes for an excellent birthday, holiday or special occasion gift for any budding fan. Measuring just 14.1 x 12.2 x 4.6 cm (5.6 x 4.8 x 1.8 in), it easily fits inside the pockets or backpacks of young adventurers, ready for action on the go. Moreover, no batteries are required for this playset as it is powered entirely by children's imaginations, ensuring endless hours of captivating gameplay with no interruptions.
Dive into the Iconic LEGO Star Wars Universe
For over two decades, LEGO has been recreating the timeless Star Wars universe with a dazzling array of starfighters, vehicles, locations and characters. As a result, LEGO Star Wars has become an incredibly popular theme, offering delightful collectible builds and display models inspired by the legendary saga. Join in on the excitement and let your creativity take flight with Kylo Ren's Shuttle Microfighter and other remarkable LEGO Star Wars sets!