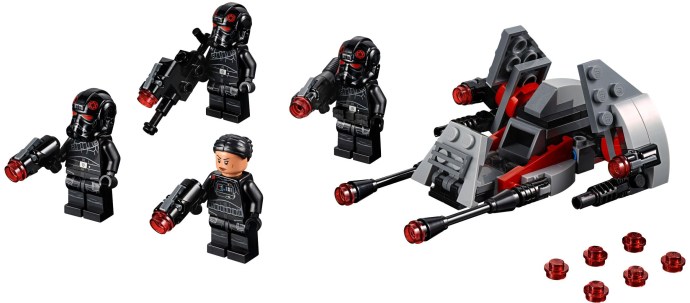 Inferno Squad Battle Pack: Expanding the LEGO Star Wars Universe
Released in 2019, the LEGO Star Wars Inferno Squad Battle Pack (Set Number 75226) has quickly become a fan favorite. This exciting construction toy brings a new dimension to LEGO's Star Wars collection and provides enthusiasts with a unique set to build and stage epic battles. This impressive pack is based on the Battlefront subtheme and comes with a host of attractive features and details, making it a must-have for all LEGO Star Wars fans.
New Characters for an Intense Experience
The 75226 Inferno Squad Battle Pack stands out for its inclusion of four new LEGO Star Wars minifigures introduced in January 2019. The set allows builders to add Iden Versio and three Inferno Squad Agents to their existing collection. Complete with highly detailed designs, these minifigures amplify the thrill of recreating fascinating Star Wars scenes and ensure that the building experience is more than memorable.
A Fearsome TIE Fighter-inspired Speeder
Beyond the captivating minifigures, the Inferno Squad Battle Pack also boasts an incredible TIE fighter style speeder equipped with dual stud shooters and room for one minifigure at a time. This speeder serves as an excellent addition to any builder's fleet, adding variety and excitement to their war-filled playtimes while offering them an innovative and fascinating model to construct.
Weaponry Aplenty for Battle-ready Enthusiasts
What would be a battle pack without an array of powerful weapons? The 75226 Inferno Squad Battle Pack delivers on this front by featuring two stud blasters, a stud blaster rifle, and a formidable stud rocket launcher. These weapons enable players to fully engage in high-octane battles and relentless pursuit of their enemies, bringing the Star Wars universe to life and ushering in hours of endless fun.
An Attractive Price for a Feature-packed Set
Considering the wealth of features, attention to detail, and sheer playability contained within this set, the 75226 Inferno Squad Battle Pack offers excellent value for money. With a recommended retail price of £12.99 / $14.99 / 14.99€ and consisting of 118 pieces, this set proves to be an affordable yet remarkable addition to any LEGO Star Wars collection.
Conclusion: A Must-have for LEGO Star Wars Fanatics
In conclusion, the Inferno Squad Battle Pack (set number 75226) is an outstanding LEGO Star Wars construction toy that enriches any collector's assembly. This fierce pack provides fans with new minifigures, a TIE Fighter-inspired speeder, and an array of weapons—successfully embodying the essence of the beloved Star Wars universe. With infinite opportunities for creative building and inspired storytelling arising from this set, one can easily understand why it has garnered such praise worldwide.