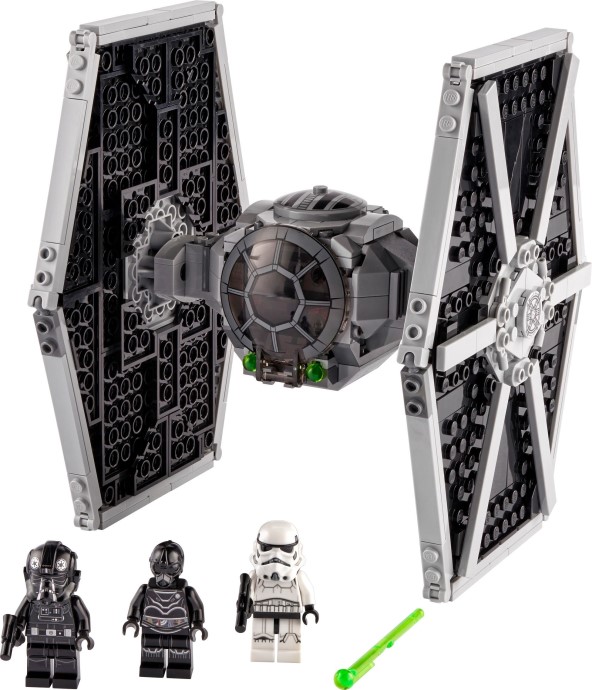 Discover the Excitement of the Imperial TIE Fighter LEGO Set
Embark on an epic adventure across the galaxy with the stunning LEGO® Star Wars™ Imperial TIE Fighter (75300). This marvelous creation captures the iconic design and unparalleled detail that has kept fans of all ages enthralled since its inception. A perfect blend of nostalgia and innovation, this buildable set invites players to dive into the extraordinary world of Star Wars, where heroes and villains clash in a war for control of the universe.
A Must-Have for Star Wars Enthusiasts
The Imperial TIE Fighter (75300) is deeply embedded in the Star Wars canon, making it a fan favorite amongst collectors and casual enthusiasts alike. With 432 pieces, this set offers a rewarding building experience for children aged 8 and up, as well as adult fans looking to reminisce about their favorite scenes from Episode IV. The impressive dimensions of this model – measuring 28.2 x 26.2 x 7.6 cm (11.1 x 10.3 x 3 inches) – ensure a prominent display in any collection or play area.
Action-Packed Features
Featuring an opening LEGO minifigure cockpit and two spring-loaded shooters, the Imperial TIE Fighter is designed for thrilling action-packed play. Included with this set are two highly sought-after minifigures: a TIE Fighter Pilot armed with a blaster pistol, and a Stormtrooper carrying his trusty blaster. But that's not all – alongside these formidable characters comes an NI-L8 Protocol Droid figure to enrich creative storytelling and role-playing experiences.
A Legacy of LEGO Star Wars Fun
Inspired by one of cinema's most timeless epics, the LEGO Star Wars theme has been capturing imaginations since 1999. With a staggering array of toy building sets and gift ideas, LEGO Star Wars continues to provide countless hours of entertainment for individuals of all ages. The Imperial TIE Fighter set is a fantastic addition to this legendary collection.
Quality and Safety Guaranteed
LEGO takes pride in maintaining the highest standards of quality and safety, ensuring that every set delivers a fulfilling experience without compromising on security. Carefully crafted with precision and durability in mind, each component undergoes rigorous testing to ensure compatibility and adherence to industry standards. The Imperial TIE Fighter set is no exception – it comes with clear instructions and guarantees a seamless and exciting building process.
Unleash Your Inner Jedi Today
With the Imperial TIE Fighter (75300) set, the power of the Dark Side is at your fingertips. Prepare for an unforgettable journey as you recreate scenes from the classic trilogy, craft your own stories, or simply marvel at the ingenuity of this iconic starfighter. Whether you're treating yourself or looking for a special gift for a fellow Star Wars fan, don't miss the chance to own a piece of history – join the battle and unleash the Force within!