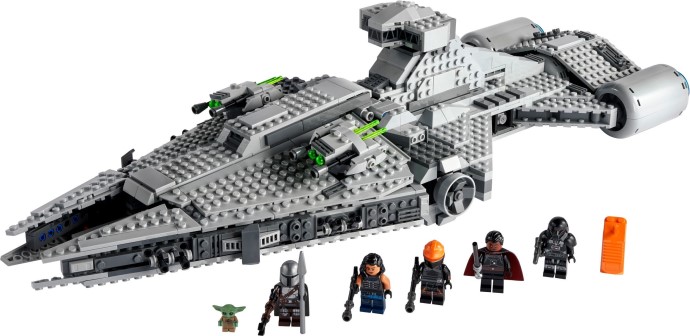 Experience the Galactic Adventure with the Imperial Light Cruiser LEGO Set
Star Wars fans, prepare for an all-new galactic adventure inspired by The Mandalorian Season 2. The LEGO Imperial Light Cruiser (75315) is a detailed ship model perfect for any collector or fan, offering hours of immersive play possibilities and incredible display potential. Packed with exciting features, interactive elements, and popular characters, you'll want to add this set to your growing Star Wars collection.
Recreate Iconic Scenes from The Mandalorian
The Imperial Light Cruiser comes with a fantastic assortment of Star Wars characters in LEGO minifigure form from The Mandalorian series. Fans can stage epic hero-versus-villain battles with the likes of The Mandalorian, Cara Dune, Fennec Shand, Moff Gideon and a new-for-August-2021 Dark Trooper figure. Let's not forget the adorable yet all-powerful Child (Grogu), affectionately known as Baby Yoda. This premium-quality LEGO set has it all, promising endless storytelling possibilities and action-packed playtime for the entire family.
Built for Battle and Display
The Imperial Light Cruiser spans an impressive 58 cm in length and features intricate design details that will captivate LEGO builders and Star Wars fans alike. With 2 rotating turrets armed with spring-loaded shooters, on-board mini TIE Fighters and a launcher, this ship is ready for action! A convenient hatch let's players access the cabin easily, which houses a hologram table and storage space for electrobinoculars and other essential accessories.
Iconic Weapons for Endless Adventures
Unleash your inner Star Wars fan with iconic weaponry that comes included with this set. Engage in epic battles using The Mandalorian's Amban phase-pulse blaster and spear, Moff Gideon's darksaber, or the arsenal of thermal detonators and electrobinoculars. The possibilities for imaginative play are truly endless with this incredible LEGO Star Wars set!
An Unforgettable Gift Idea
The Imperial Light Cruiser is a must-have addition for any Star Wars or LEGO enthusiast aged 10 and up. Whether you're a seasoned builder or just starting out in the world of LEGO creations, this 1,336-piece set will provide hours of entertainment and challenge. Perfect as a birthday present or holiday gift, the recipient is sure to be thrilled by this exciting buildable playset. Plus, easy-to-follow instructions mean even LEGO beginners can dive right in.
Discover the LEGO Star Wars World
A vast galaxy of possibilities awaits you as you explore the entire LEGO Star Wars range. With sets suitable for fans of all ages, collectors and builders alike can enjoy recreating scenes from the iconic saga or designing their own imaginative adventures. The exceptional quality of LEGO Star Wars sets ensures that these collectible building toys will last for many generations of fans to enjoy.
Experience the excitement, creativity and endless possibilities that are synonymous with both LEGO and Star Wars franchises when you embark on your journey with the Imperial Light Cruiser (75315) set. Let your imagination soar as you recreate your favorite moments from The Mandalorian and explore new frontiers in this ever-expanding universe.