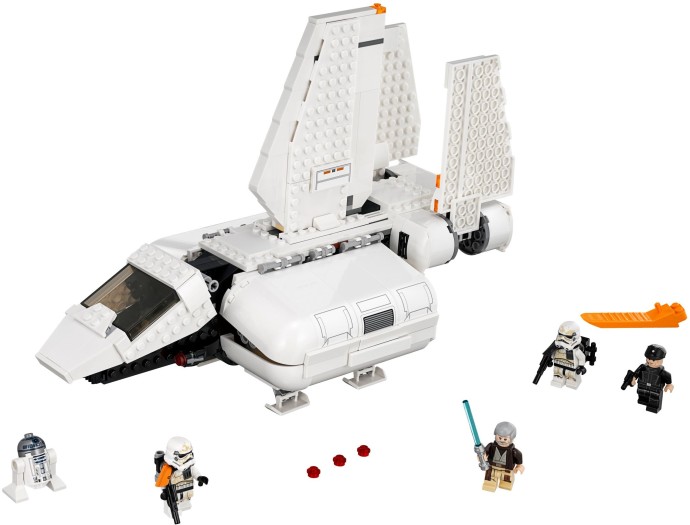 Explore the Galaxy with LEGO's 75221 Imperial Landing Craft
Indulge in an interstellar experience by immersing yourself in LEGO's captivating 75221 Imperial Landing Craft from the Star Wars Episode IV subtheme. Launched in August 2018, this exceptional model will transport you to the iconic moment from Star Wars: A New Hope while providing endless hours of galactic fun.
A Stellar Set with Impressive Features
The 75221 Imperial Landing Craft boasts a fantastic array of features that capture the true essence of the iconic spacecraft from the movie. Designed by Henrik Andersen, this set comprises 636 pieces and offers an enjoyable challenge for enthusiasts aged nine and above.
Jump into action with folding wings that transform between flight and landing modes. The design also showcases functional landing gear, an opening minifigure cockpit, and top panels with a slide-out access ramp. The ample interior space allows room to seat or stand LEGO minifigures while reenacting epic battles and adventures.
Iconic Characters and Weapons Included
With a total of five minifigures, fans can experience the thrill of playing as their favorite characters from Star Wars: A New Hope. The set features Obi-Wan Kenobi, an Imperial Shuttle Pilot, Sandtrooper, and a Sandtrooper Squad Leader along with everyone's beloved droid, R2-D2.
Duel it out with weapons provided in the set such as a blaster pistol, two standard blasters, and Obi-Wan's Lightsaber. The excitement never ends with opportunities to load up troops and fly them across the galaxy to enact heroic missions.
A Perfect Combo for Tatooine Adventures
For an even more immersive experience, combine the 75221 Imperial Landing Craft with the 75205 Mos Eisley Cantina set. This merger creates an incredible Tatooine adventure that's sure to captivate the imagination of any Star Wars fan.
Attractive Pricing for a Galaxy Far, Far Away
The LEGO 75221 Imperial Landing Craft is well-valued with an RRP of £79.99 / $89.99 / 89.99€. The cost per piece ratio stands at 12.6p / 14.1c / 14.1c which makes it a solid addition to your Star Wars LEGO collection. The dimensions are 35.4 x 37.8 x 7.1 cm (13.9 x 14.9 x 2.8 in), and it weighs approximately 1.17Kg (2.58 lb).
Immerse yourself in the world of Star Wars with the enchanting and interactive LEGO 75221 Imperial Landing Craft set today, and embark on unforgettable adventures through the galaxy!