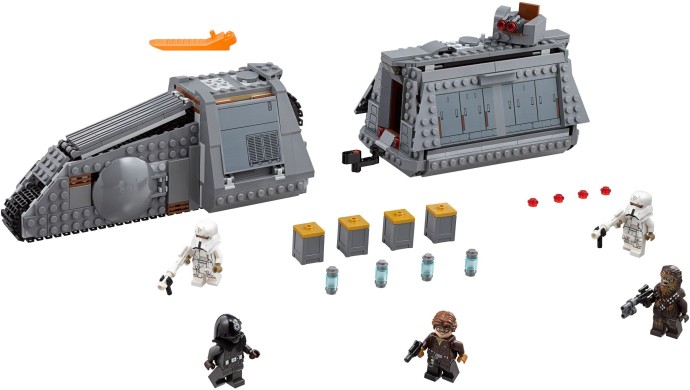 Experience the High-Speed Thrills with LEGO's Imperial Conveyex Transport
If you've seen the Solo: A Star Wars film, you'll know all about the high-speed smuggling adventures that ensue. Now, you can recreate those dramatic moments with the stunning LEGO Star Wars 75217 Imperial Conveyex Transport set. Released under the Star Wars theme and Solo subtheme in August 2018, this set offers an immersive and unforgettable LEGO building experience.
A Faithful Recreation of a Captivating Movie Sequence
The Imperial Conveyex Transport set remarkably encapsulates one of the most thrilling scenes from Solo: A Star Wars Story. With an armored locomotive complete with a wrap-around track detailed engine section, not to mention an opening driver's compartment and a compact weapon store, it perfectly resembles its on-screen counterpart. The design is an achievement of LEGO's master designer Henrik Andersen who ensures every detail feels authentic.
Components that Add More Excitement
What makes this set even more special is its detachable cargo wagon with mobile gun turret featuring stud shooters. Young builders will love opening the side panels and the top hatch, then loading up the four coaxium containers included. For added fun, there is also an access ladder leading to the upper hatch – a perfect route for daring escapes!
Minifigures that Bring Characters from Star Wars to Life
The set brings real excitement with a collection of five LEGO mini-figures to spark imaginative play. Included are figures of Han Solo and Chewbacca along with an Imperial Gunner and two Range Troopers – each figure is equipped with their appropriate weapons. Playtime stories can be created around these characters, taking them through smuggling missions and close encounters with enemies.
Combine for Greater Fun!
For maximum enjoyment, this train heist adventure can be combined with other sets: 75215 Cloud-Rider Swoop Bikes and 75219 Imperial AT-Hauler. By linking these sets together, LEGO enthusiasts can extend their train and play out even larger and more thrilling chases! In fact, multiple sets can be hitched up for an expansive rail transport scene, expanding endless possibilities for imaginative storytelling.
Set Specifications
Designed for children aged between 8 – 14 years old, this immersive set is composed of impressive 622 pieces. Weighing at just over 1 kilogram (about 2.22 lb) when completed, it measures approximately 48 x 28.2 x 6.1 cm or (18.9 x 11.1 x 2.4 in). This makes for a model that is robust enough to withstand active play while being tactically interesting to build.
The Final Word
This excellently designed LEGO Star Wars Imperial Conveyex Transport set provides brilliantly nostalgic moments from Solo: A Star Wars Story right in your living room or wherever you love to play! Its combinations of fascinating minifigures, detailed vehicles, structures and much more enable memorable play experiences that bring children's favourite scenes from the series to life.