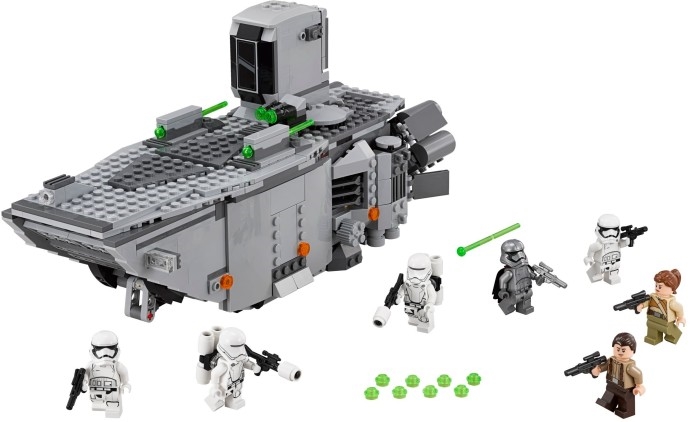 Take a Closer Look at the First Order Transporter
If you're a Star Wars fan and a LEGO enthusiast, get ready to embrace the dark side with the LEGO Star Wars First Order Transporter! This iconic set from The Force Awakens subtheme is filled with exciting features that will transport you right into the heart of your favorite galaxy far, far away. With a staggering number of pieces and unique design elements, it's time to dive into an intergalactic adventure.
Intricately Designed for Hours of Fun
The First Order Transporter comes with an impressive 792 pieces, providing an enjoyable building experience for those aged 9 to 14 years. Its striking design boasts incredible attention to detail and accuracy. With dimensions of 54 x 28.2 x 5.9 cm (21.3 x 11.1 x 2.3 in), this transporter might be compact in size but immense in galactic fun! Weighing approximately 1.19kg (2.63 lb), it's sturdy and ready for any interstellar challenge you throw its way.
Cool Features to Enhance Your Adventure
This heavily armored First Order Transporter is definitely not short on cool features. Packed with dual spring-loaded shooters, a top-mounted dual-stud shooter, and a hatch with space for a minifigure, there's endless excitement in store. The pilot cabin has an opening hatch and space for four minifigures, while hidden transparent wheels give the transporter that mystical 'hover' look fans will appreciate.
For even more accessibility during your playtime, the top section can be removed so you can get right into the heart of the action. Whether you're recreating iconic battle scenes from Star Wars: The Force Awakens or designing your very own space sagas, thisFirst Order Transporter is the perfect addition to any LEGO Star Wars collection.
Seven Exciting Minifigures with Weapons and Accessories
No LEGO Star Wars set would be complete without an entourage of minifigures to bring your battles to life. The First Order Transporter includes seven detailed figures with assorted weapons and accessories from the movie. You'll get two Resistance Soldiers, two First Order Flametroopers, two First Order Stormtroopers, and the formidable Captain Phasma, all equipped with blasters and flamethrowers to wage epic battles.
The set also features a range of accessories for added authenticity – including six helmets to protect your minifigures during their daring galaxy duels.
Join the Dark Side with the First Order Transporter
The First Order Transporter was released back in 2015 as part of LEGO's Star Wars: The Force Awakens subtheme. With a retail price of £79.99 / $89.99 / 99.99€, this set gives you hours of fun and a fantastic cost-per-piece value of 10.1p / 11.4c / 12.6c. Be sure not to miss out on this incredible set that's perfect for fans of all ages!