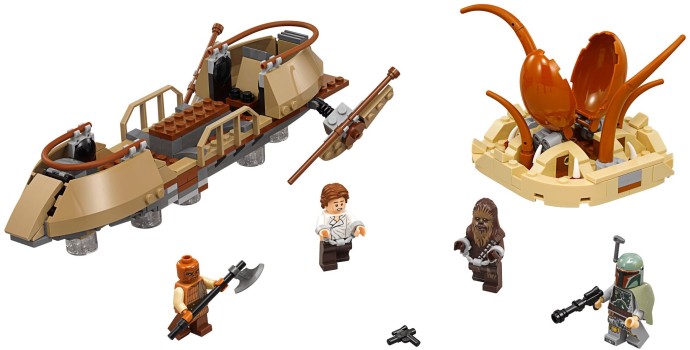 Explore the Excitement of the Desert Skiff Escape
Star Wars fans can relive the iconic scenes from Episode VI: Return of the Jedi with the LEGO Desert Skiff Escape set. This carefully designed building set offers an immersive building and play experience, featuring key elements such as Jabba the Hutt's skiff and the unforgettable Sarlacc pit. Perfect for children aged 7-12, the 277-piece set brings endless excitement to the world of Star Wars.
Iconic Characters in Minifigure Form
The Desert Skiff Escape set includes four highly detailed minifigures perfect for creating thrilling battles. The included characters are:
Han Solo
Chewbacca
Boba Fett
Skiff Guard
Fans can recreate their favorite scenes from the movie or come up with their own exciting storylines, using these iconic minifigures. Complete with Han's blaster pistol, Boba Fett's special blaster pistol, and an axe, they have all the weaponry they need to defend themselves against impending doom.
Jabba the Hutt's Skiff: A Unique Build
The Desert Skiff Escape set features a wonderfully designed skiff with plenty of interesting details to make staying in character enjoyable and authentic. The skiff is equipped with an extendable plank, storage hold, and movable rudders at the back for full maneuverability. Transparent elements underneath give it a hovering appearance, enhancing its similarity to its silver screen counterpart.
Experience the Thrill of Escaping the Sarlacc Pit
The set also includes a Sarlacc pit, complete with tentacles and teeth just waiting to devour its next victim. The pit offers an opening mouth with space for a minifigure, bringing excitement and suspense to the play. This set will truly put each character's survival skills to the test as they attempt to escape the terrifying Sarlacc creature.
Additional Accessories for More Playtime Fun
The Desert Skiff Escape comes complete with handcuffs for Chewbacca and Han Solo, adding further authenticity to the desert scenes fans know and love. The detailed weapons and accessories provide children with endless possibilities for intricate storylines and duels in their Star Wars adventures.
Bring Your Imagination to Life
With its highly detailed design, unique features, and iconic minifigures, the Desert Skiff Escape set allows young builders to delve deep into the world of Star Wars. Suitable for those aged 7-12, this exciting set allows fans to bring their imagination to life as they recreate classic scenes or craft their galaxy far, far away.