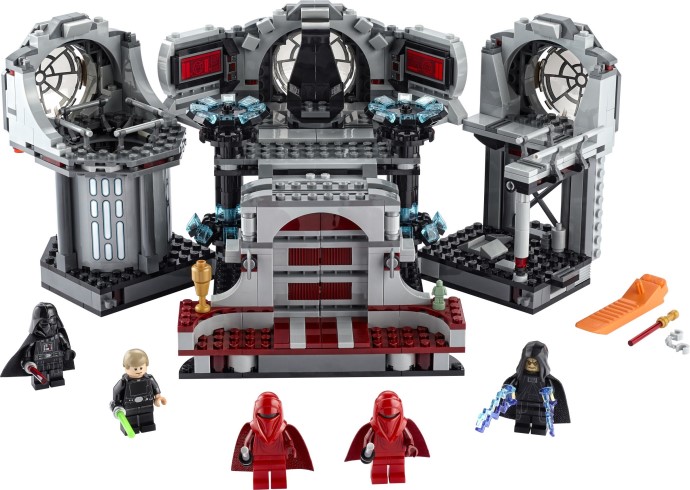 Experience an Epic Battle with LEGO's Death Star Final Duel
LEGO continues to amaze and excite its fans with another fantastic Star Wars themed set, the Death Star Final Duel (75291). Released in 2020, this incredible construction kit brings to life the legendary lightsaber battle between Luke Skywalker and Darth Vader from Episode VI: Return of the Jedi. Get ready to recreate this epic showdown within the confines of Emperor Palpatine's throne room!
Unleash Your Creativity With a Challenging and Rewarding Build
Geared towards LEGO enthusiasts aged 9 and above, this 775-piece set offers a challenging yet satisfying building experience. The finished playset measures an impressive 5.5″ (14cm) high, 8.5″ (22cm) long, and 12.5″ (31cm) wide. With detailed instructions accompanying the build, both kids and adults are sure to enjoy watching their favorite Star Wars scene come to life.
An Array of Features and Minifigures for Maximum Fun
The Death Star Final Duel set is packed with exciting features that promise endless hours of imaginative play. The throne room boasts a folding design for easy access, as well as elements such as rotating throne, collapsing stairs and bridge, reactor shaft, and even a force-jump function for added action! This interactive playset has everything you need to recreate memorable scenes from Episode VI or invent your own thrilling battles.
To make things more interesting, the set also includes 5 meticulously crafted minifigures – Darth Vader, Luke Skywalker, Emperor Palpatine, and two Imperial Royal Guards. All are armed with weapons such as Lightsabers and force pikes for some intense duel action.
Bonus Perk: Unlock a Character in the LEGO Star Wars: The Skywalker Saga Video Game
Not only does this set serve as an excellent playpiece, but it also comes with a code that will help you unlock a character in the LEGO Star Wars: The Skywalker Saga video game. This offers an additional incentive to invest in this Star Wars-themed construction kit.
Perfect for Fans of All Ages
Since 1999, LEGO has been offering fans astonishing recreations of iconic Star Wars scenes, characters, and vehicles. Today, the LEGO Star Wars theme is among the company's most successful lines with gift ideas suitable for enthusiasts of all ages. The Death Star Final Duel set keeps up with that tradition by offering an engaging, immersive experience that will be cherished by kids and adults alike.
If you're looking to indulge in some intergalactic fun or simply seeking the perfect gift for a Star Wars fan, the Death Star Final Duel (75291) is an excellent choice. Embrace your inner Jedi or Sith as you embark on an unforgettable building journey and recreate this classic battle!