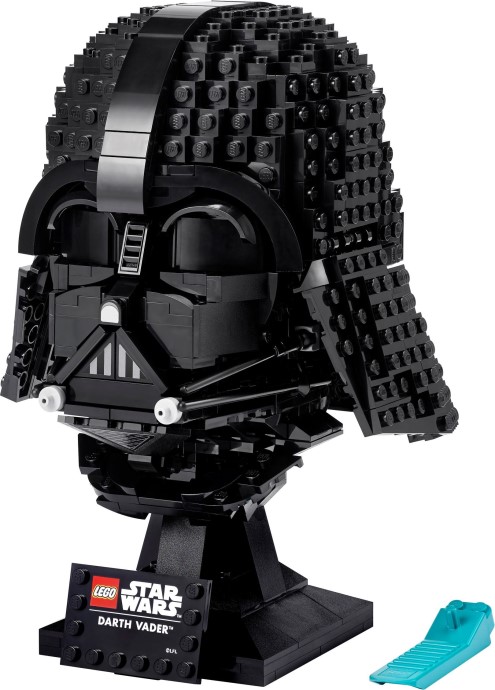 Discover the LEGO® Star Wars™ Darth Vader Helmet (75304)
Embrace your inner Dark Lord and journey to the dark side with the impressively intricate LEGO® Star Wars™ Darth Vader Helmet set. This iconic helmet is a tribute to one of the most renowned villains in cinema history and offers LEGO builders and Star Wars fans alike an immersive experience filled with both fun and nostalgia. Released in 2021, this collectible set provides endless hours of entertainment for the discerning hobbyist, devoted Star Wars enthusiast, or anyone seeking an exhilarating new challenge.
Key Features & Components
Designed by César Soares, the Darth Vader Helmet (75304) is part of the Star Wars Helmet Collection and is composed of 834 masterfully crafted pieces. The set, recommended for ages 18 and over, offers a thrilling building adventure that culminates in a sophisticated centerpiece perfect for display at home or in your workspace. With a compact size of 19.1 x 35.4 x 11.8 cm (7.5 x 13.9 x 4.6 in), the model ensures that both its presence and Vader's sinister aura are felt when showcased on any shelf or desk.
The cost per piece is reasonable, at a rate of 8.4p / 9.6c / 9.6c, and has an RRP value of £69.99 / $79.99 / 79.99€. Its release date was marked as April 26th, 2021, with no definitive exit date currently available.
A Building Experience Worthy of the Sith
This LEGO® Star Wars™ set caters to more than just those experienced with LEGO building: it's designed specifically for adults who desire a premium-quality display piece as well as an engaging, hands-on project. The set provides clear, easy-to-follow instructions, so even LEGO newcomers can tackle its intricate design with the assuredness of a Jedi Knight.
Upon completion, the Darth Vader Helmet features every meticulous element and detail associated with the iconic character from the Star Wars saga. Relive memories of classic scenes as you build your own representation of his formidable helmet through an intricate layering of LEGO bricks. To further enhance the building experience, consider pairing this set with other build-to-display helmets in the collection, such as the Scout Trooper Helmet (75305).
Perfect for Memorable Gifting
Whether you're searching for a unique gift for a loved one or simply treating yourself, the LEGO® Star Wars™ Darth Vader Helmet is an ideal choice. It offers an enriching building experience that satisfies creative urges and encourages stress-relief. Furthermore, this collectible set acts as a memorable piece of memorabilia for any diehard Star Wars fan.
In summary, the Darth Vader Helmet (75304) provides a sophisticated and challenging building project that both captivates and challenges builders while serving as an eye-catching centerpiece to display once completed. For those passionate about both LEGO® and the Star Wars universe, there couldn't be a better match.