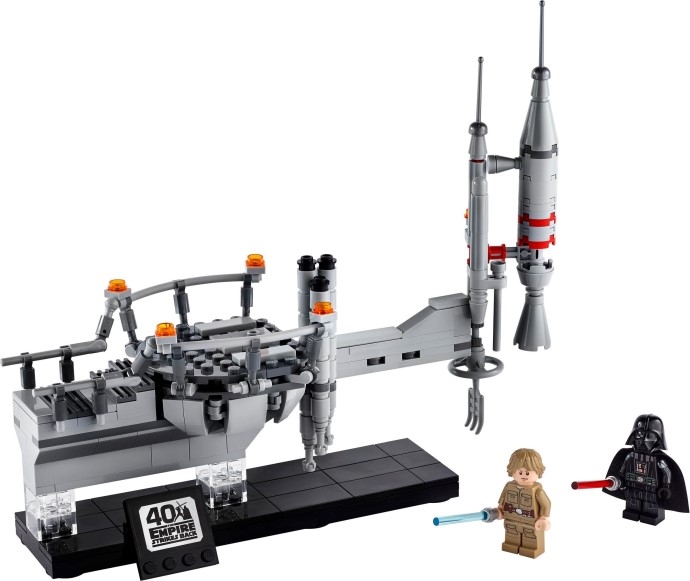 Immerse Yourself in the Bespin Duel LEGO® Set
Reignite your love for Star Wars™ by stepping into one of its most iconic moments with the Bespin Duel LEGO® set (75294). Designed to celebrate 40 years since the release of Star Wars: The Empire Strikes Back, this engaging construction model transports you back to the gripping Cloud City showdown between Luke Skywalker and Darth Vader.
A Perfect Display Piece for Passionate Fans
Brimming with intricate details and authenticity, this 295-piece Star Wars™ building set is not only a joy to assemble but also makes for an exceptional display piece. The set comes complete with Luke Skywalker and Darth Vader minifigures armed with their lightsabers, ready to engage in their unforgettable duel. Mounted on an elegant stand featuring the 40th-anniversary nameplate, this centerpiece is sure to captivate every Star Wars™ fan who lays eyes on it.
A Mindful Journey Through the Galaxy
This Bespin Duel set provides the perfect opportunity to delve into mindful relaxation as you reminisce on nostalgic Star Wars™ memories. Engage in this calming and enjoyable experience alone or share it with friends for a creative bonding session. Fret not if you are new to LEGO®, as this set includes detailed step-by-step instructions, guaranteeing a seamless and gratifying building experience. Embrace your inner Jedi and unleash your creativity as you construct a magnificent tribute to one of cinema's most memorable scenes.
A Thoughtful Gift for Every Star Wars™ Enthusiast
This unique LEGO® building set lends itself perfectly as a heartfelt gift for birthdays and holidays alike. Delight the Star Wars™ fan or hobbyist in your life with an immersive construction activity designed just for them. Spice up their memorabilia collection with this Bespin Duel model, which is sure to stand out as a proud declaration of their love for the legendary film series.
Channel the Force for Unparalleled Building Quality
Rest assured that you are embarking on a one-of-a-kind building experience with high-quality LEGO® bricks, developed to meet the most stringent safety and quality standards. Each brick undergoes meticulous testing to guarantee effortless assembly and a flawless final creation. There's no need to rely on the Force to connect or pull apart your bricks – be guided by 60 years of LEGO® excellence as you build and display your very own Bespin Duel masterpiece.