There's a lot of zombie stuff out there, and most of it is crap. People like to jump on bandwagons and produce quick tie-ins rather than investing love and effort into their creations. Luckily for you, I'm here to help separate the wheat from the chaff. Check back every Thursday, when I'm going to share the coolest zombie-related creation I can find out there on the web.
The Zombie Creation:
This week's LEGO Zombie creation, "The Four Horsemen" by Project Azazel, doesn't really have zombies in it, but it's about as apocalyptic as you can get. This is, after all, a modern imaging of the Four Horsemen of the Apocalypse from the Book of Revelation.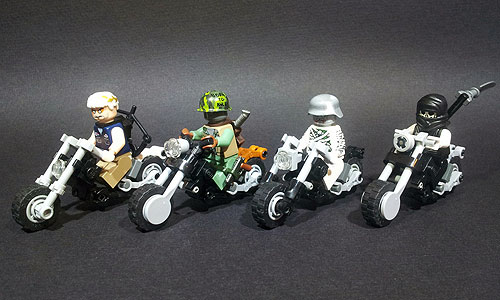 So What's Going On?
Well, there's not really a lot of action here, we just have the Four Horsemen posed on a dark gray backdrop. Fair enough.
What I do like about this creation is the imaginative take on the classic characters. Rather than animals, Pestilence, Death, War, and Famine are making their way across the land on chopped motorcycles. That's just plain cool, and I'm not even a bike guy.
Let's Talk About the Zombies Horsemen
One of the coolest things about this creation is how much personality is injected into each of the Four Horsemen. You really don't need to work very hard to figure out who War and Death are. Pestilence is the fellow with the bow, and Famine is the mummy. (it really helps to know a bit of the mythology here). My only real criticism is that I would have liked to see the motorcycles themselves colored to match the traditional descriptions, but that's not always possible given the part distribution with LEGO.
Have you seen a great zombie creation out on the web? Are you working on the next great zombie MOC as we speak? Well you had better let us know right away, otherwise we'll never be able to include it here.